Breaking News & Updates
We have previously written blog posts about our Bookkeeping Academy and in particular, how students of our MYOB training courses can gain access to this for FREE. We are currently creating training materials on how to use Reach Accounting from NetRegistry.
We are currently creating new content for various cloud accounting software vendors, and in particular is the Reach Accounting package. This package is ideal for small serviced based businesses such as graphic designers, website designers and even bookkeepers . The Sales layout (Invoice) is more suited to small service based businesses' as it does not allow you to manage items or inventory, but at only $14.95 per month it is extremely affordable while enabling you to remain compliant with your recording and reporting requirements.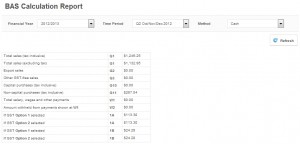 Our Course Designer, Certified Bookkeeper and Registered BAS Agent had this to say about Reaching Accounting:
I love the report functionality and its ease of use, especially for people who are not familiar with bookkeeping or accounting reports. The BAS Calculation report is a prime example of this, whereby [quote]it gives us the information needed to simply transfer onto the BAS[/quote] . Another thing that really impressed me was the Thank Client Email functionality, this is received by the client in a professional look, displays the information needed and they can also see a list of their transactions regarding the invoice just by clicking a link in the email.
We are continually creating new content for our Bookkeeping Academy and if you have not already, sign up to one of our MYOB courses which include Lifetime Membership, and free 12 months access to all the content at the Bookkeeping Academy.
Please feel free to share your comments with us our Facebook page and connect with us at Linkedin.
-- Did you like what you read? Want to receive these posts via email when they are published? Subscribe below.