Breaking News & Updates
Is QuickBooks Online the White Elephant in the Room?
I recently wrote about QuickBooks, once the great competitor to MYOB accounting software, and I thought I would delve a little deeper to see what has happened with the company that use to be their Australian distributor, Reckon and how big they are in the US. I looks to me like we have a period of consolidation on our hands with some very big companies and many of them listed trying to earn the cloud accounting dollar.
We have online courses in MYOB and Xero and are exploring a QuickBooks Online training course.
What do you Reckon about Reckon?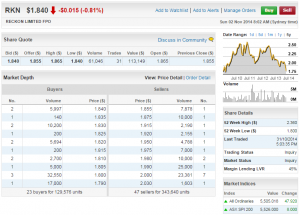 As a public company you can see Reckons financial results and industry commentary at the ASX website and in their latest financial announcements they confirmed that they had parted ways with Intuit as the Australian distributor earlier this year (saving them $2.5M in royalty costs).
Reckon is now a competitor to their previous partners, Intuit, and a participant in the online accounting and bookkeeping software market with their own software service called Reckon Hosted.
If I were Reckon the scariest thing for me would be that the brand that I helped to build over such a long period is now strongly competing directly against me in the local market. Let's hope they built some good relationships with accountants who'll continue to work with and recommend their new product lineup. Their share price seems to indicate that they are currently falling out of favour.
Xero vs QuickBooks Online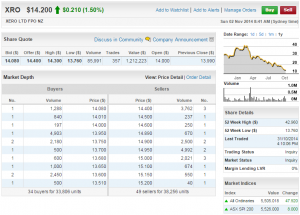 Xero is the nameplate for online accounting software because they pioneered accounting software that ONLY works in the cloud. A major shareholder in Xero is Craig Winkler, the man who successfully helped MYOB dominate the accounting marketing in the PC era and sold out to Archer Capital who then sold to another large US private equity company Bain Capital.
I wrote about Xero's financial performance not long after they listed their XRO shares on the ASX (they are a New Zealand company) but their recent share price performance seems to indicate that they are not popular in Australia. The next frontier in online accounting and bookkeeping seems to be integrations and accounting suite tools for accountants. These integrations and add-ons are one way of making their software more important in the suite of programs that small businesses use and a good example is the recent announcement of Xero's integration with Microsoft's Office 365.
Visit Xero's website and you'll quickly be able to get to their Add-on Market Place.
MYOB vs QuickBooks Online
Bain Capital paid over 1 billions dollars for MYOB to include it in it's bag of technology investments – see if you can spot MYOB! Although they are no longer an Australian public company they are listed on the ASX and Aussies can invest in the company that now offers a wider range of services that just accounting software. Their revenue has grown significantly in the 2014 financial year according to their announcement on 25th August 2014.
MYOB had many partners in their PC based software but went through a very tough period when accountants were refusing to recommend MYOB customer upgrade their software. MYOB had to re-write their software to cater for the cloud accounting market and some integrations just didn't work as a result. It appears that the online version is still popular with MYOB Partners and you can learn more about MYOB Add-ons here.
MYOB is still the market leader for accounting software in Australia an although they appear to be a laggard in the online space they are agressively competing with Xero for new customer acquisitions. A recent article by Peter Dinham at IT Wire about Xero and MYOB customer numbers highlights how dirty the fight is getting and how important accountants are in the sale of accounting software. Peter talks about MYOB being the 800 pound gorilla but when you explore the global market for accounting software you cannot ignore Intuit.
QuickBooks Online and the Global Accounting Software Market
Go to Intuit.com and you'll be presented with a message that says "we've gone global" and the option to go to your local country website site. Let's face it, they've been global for a while but it's apparent that their online marketing for Quickbooks Online is becoming stronger. I read a recent blog post from Sholto Macpherson's popular Digital First website about the Top 5 Most Popular Features of QuickBooks Online and note that at the bottom of his post he disclosed that he travelled to QuickBooks Connect as a guest of Intuit. It's a sign of the impending marketing blitz that a massive US company is capable of.
Visit Intuit's investor relations website and you'll see that the revenue for Intuit in 2013 was almost 4 times the total capital purchase price that Bain Capital paid for MYOB when they bought it. With that size, established software brand in Quickbooks and a network of Intuit Pro Advisers ready to help small businesses I think this is the space to watch for online accounting software.
Again, as a very established software publishing company Intuit have an impressive range of Add-ons to help improve the functionality of the software as small business look for ways of integrating the ever widening range of cloud-based software they use.
QuickBooks Pro Adviser Offer
Whilst writing this post I became aware of the big launch that Intuit are doing in Australia to strengthen their network of accountants and advisers. It's started with a blubbery story about the great history of a 30 year old US company, but I found this video which shows what they are willing to do to help Australian Bookkeepers increase their knowledge, get new sales and better support their customers (Small Businesses).
Here it is..
Join our Bookkeeper Directory
If you are a MYOB bookkeeper and want us to help you get exposure and find new small business bookkeeping clients register with our partners at Workface as we build a national bookkeeping database to help you find new clients and help small businesses find honest, hardworking bookkeepers who operate their own home based bookkeeping business.
To be a bookkeeper in this cloud accounting era means that you can perform bookkeeping from your own home office if you do a great job and have a good reputation. Although you can perform this work from home its becoming more important to get that reputation and one of the tried and trusted ways is by meeting people face to face at networking events. When people get to know you and like you they'll start recommending you to people who they know need a bookkeeper and that is when you'll discover the power of referral marketing.
Registering for the bookkeeper directory is the first step in our plan to help people operate a business from home. If you want to read more about how we plan to help ordinary people start their own business as independent contractors visit the StartUp Academy website and learn more. You can subscribe for the free guide that I created to help people on that journey.
-- Did you like what you read? Want to receive these posts via email when they are published? Subscribe below.