Breaking News & Updates
Intuit Quickbooks sign up ultimatum – clever marketing or a turn off
I was reviewing the course content for our soon to be released Intuit Quickbooks Setup online training course and noticed the interesting offer that the company makes when you sign up for the free 30 day trial – take the discounted price or lose the offer of a discount!
For their premium online product, Quickbooks Online Plus, that's a free trial OR the 70% saving of $294.
On the flip side they do offer the ability to cancel at any time. What do you think of that? Feel free to like us on Facebook and share your opinion.
I use MYOB, Xero and Quickbooks and I like Intuit Quickbooks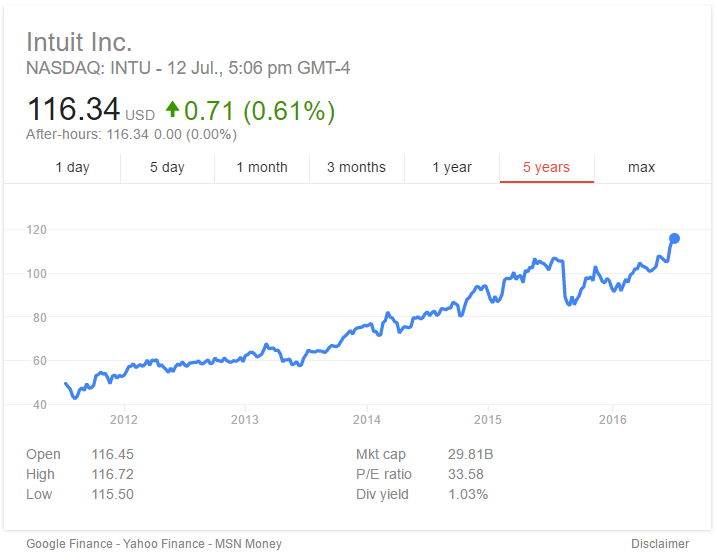 Call me a masochist but I believe the best way to be able to use and recommend accounting software is by getting exposed to the programs and how they work by using them yourself – I also think most good bookkeepers should be doing this too.
I confess that I currently use each of these major accounting programs (MYOB, Xero and Quickbooks) and find the Quickbooks Online software very impressive.
Intuit Quickbooks has all the features small businesses expect, including mobile phone apps that make it easy to keep track of receipts using your phone's camera, for a price that is VERY attractive to small businesses.
Why Intuit Quickbooks can take the Aussie accounting crown
I wrote about the threat that Intuit represent to MYOB and Xero in my blog about whether these two accounting software companies could end up being SMASHED by Intuit in 2014 and if you look at the share price of this company over the last 5 years you can see how they are in a very healthy position (with a valuation just shy of $30 Billion) to maintain strong and constant pressure on the two most widely used accounting software programs. Except for the fact that people don't like change these are the 3 factors that I think can win Intuit the Accounting software crown in Australia:
Excellent features, including Payroll and bank feeds as basics – they have it all
Great user interface that is easy to use – Xero seems to be trying to emulate parts of the Quickbooks dashboard
Attractive price compared to Xero and MYOB – They constantly have good specials and regular cheaper prices
An App marketing place for project management, point of sale, CRM and other online tools – Intuit have the benefit of being a massive global company with millions of customers (US market leader)
Payroll included for no charge and they'll convert your current Xero or MYOB data
Payroll has always been a premium feature for MYOB, who earnt significant annual income from businesses who used the software for their payroll and HAD to upgrade to get the new tax tables (even though this was previously a simple file update). Intuit QuickBooks give this to you for their normal subscription prices. The other pain factor for most people is getting the data across from their existing system into Quickbooks and Intuit have sorted that out with a free conversion offer.
When we talk about Quickbooks you should be aware that Quickbooks has always been published by Intuit, but when it was a computer based software program that you had to download, it was distributed in Australia by a company called Reckon. You can read here about the changes since Intuit Quickbooks became a cloud accounting program.
Pre register now for the free training workbook
Pre-register your interest in our forthcoming Intuit Quickbooks course to receive the first workbook for free!
This offer will only be available to everyone registered in our system before the release announcement date and of course it is free to register and free to receive the workbook!
-- Did you like what you read? Want to receive these posts via email when they are published? Subscribe below.