Breaking News & Updates
Let's face it, when you can manage your finances from anywhere, using your phone to scan receipts and Xero Accounting to code them and store them in the cloud one of the hardest parts of managing a business is taken care of. 
We've all been able to call, text and email from our mobile phones and use online marketing tools like Google Ads and Facebook for social media so when you finally get your back office tasks migrated to the cloud it's easy right? Well, that's what the marketing hype says anyway, but things aren't that rosy really, are they?
Migrating to Xero can be painful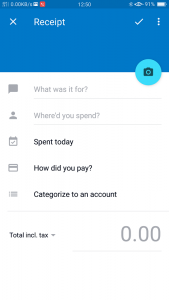 I had a chat with one business owner recently who migrated away from MYOB AccountRight (which he was previously using for a couple decades) at the suggestion of his accountant and he has been pulling his hair out ever since!
Sure, the frustration comes from having to learn a new software system but it also shows that accounting isn't always easy and intuitive. Although we can use useful tools like Hubdoc, ReceiptBank, AutoEntry and other receipt capture, scanning and coding software, these systems don't get it right all the time either.
Another business owner I spoke to late last year was dismayed at the lack of inventory features in Xero. He owns a boat sales, repair and retailing business and ultimately went back to using QuickBooks Online!
The Xero Accounting Mobile App is Not Too Appealing
I'm lucky enough (or unlucky!) to use several different accounting programs and my team and I were reviewing the functionality available in the smartphone version of these programs. Xero Accounting was there, but the standout was definitely Intuit's QuickBooks Online! 
Xero Accounting's Android App had very basic functionality similar to a great FREE accounting program from Canada called WaveApps (who have an invoicing and receipt capture app). MYOB sadly didn't seem worth downloading from the reviews alone but QuickBooks had all the functions that most tradies want RIGHT there on the mobile app – and that's what these guys (and girls) use for the Daily Transactions of their businesses – their smart phone.
Managing an Online Business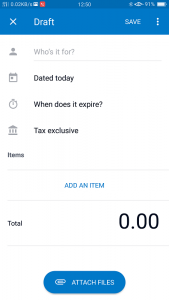 Doing anything online requires you to change the way you work and lots of people are starting to see that. I recently wrote about buying an online business so stay tuned if that interests you because of the current Covid19 isolation crisis.
You can still get on the phone all the time to talk to people about their accounts but when you use the systems that these cloud-based accounting software companies setup for you, you can hire people from anywhere (even AirTasker) to manage your accounts and when you use the software to your best ability you'll:
have up-to-date financials 
better credit risk management
be compliant with the ATO
save money on accounting fees
Xero Accounting App Better Than Reckon One for Creating Quotes
So, if you in the market for a cloud accounting system that has a smartphone app, Xero may not be as feature rich as QuickBooks Online but they have one feature that should be in an app and that is the ability to quote and invoice. In our Reckon One course we just released I was stunned to discover that their cloud-based software doesn't even have this functionality! 

Does that mean you need a completely separate app just to be able to quote and then invoice!? I'm sure it's on their feature roadmap but right now that's a sadly lacking feature. 
Want to learn all these software programs in one massive Cloud Accounting Training Course Package? You can with the Bookkeeping Academy COMPLETE Combination Course Package, available for $20 per week. 
-- Did you like what you read? Want to receive these posts via email when they are published? Subscribe below.