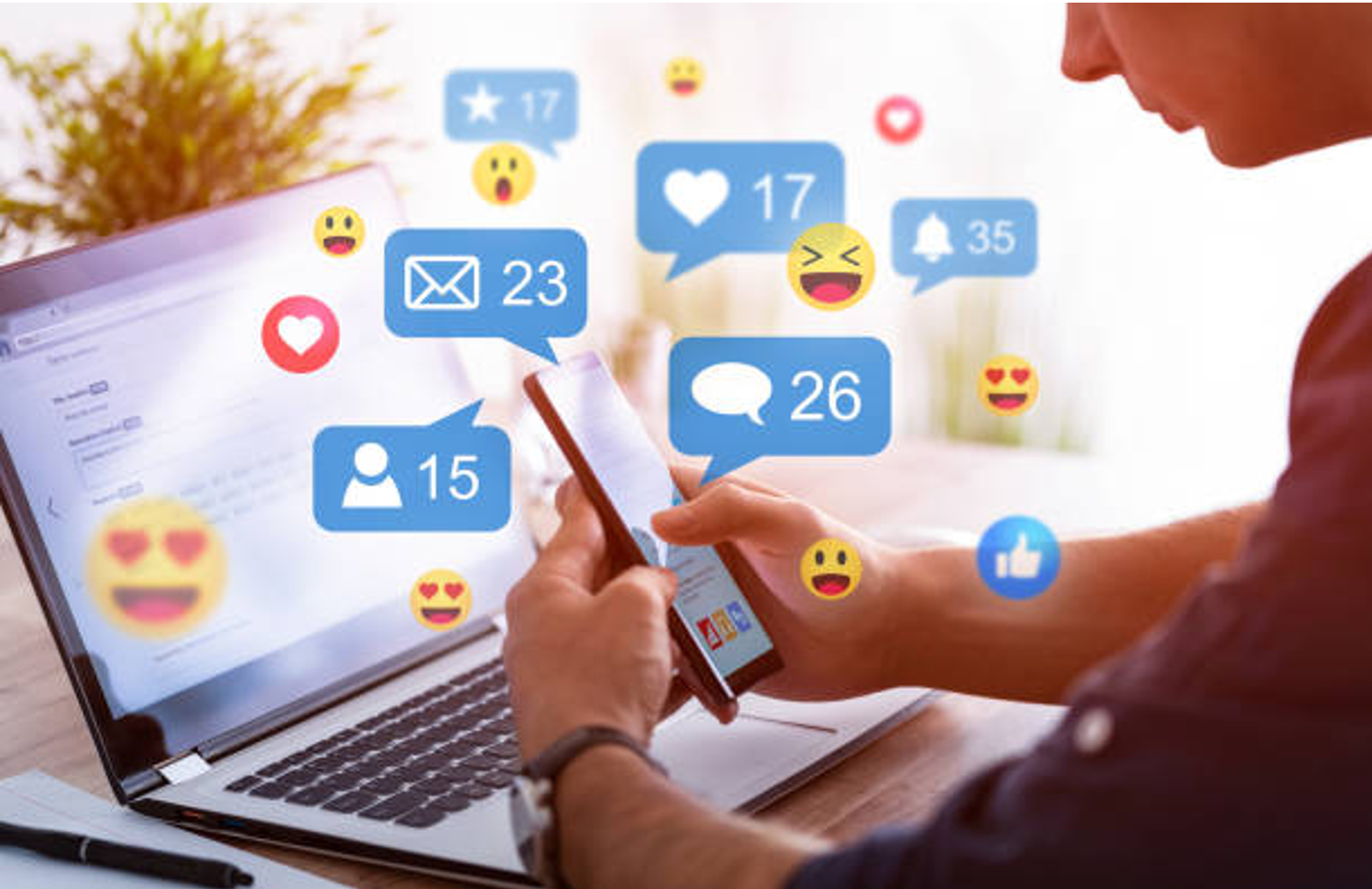 Breaking News & Updates
Social media isn't just for selfies and cat pictures anymore. A quick scroll through any popular social media platform will bring up posts from brands and companies promoting themselves and their products/services.
In their guide to digital marketing, Xero included a quote from a business owner who said the following about her approach to social media marketing:
"I don't spend money on advertising. I create content aimed at helping my target customer and share it on Instagram or via podcasts. It attracts enough new clients to keep me busy."

Olivia Park, Olivia Park Coaching
It begs the question: is shareable content the digital marketing that businesses should be focusing on? And not just content the business shares, but content that social media users will then share amongst themselves?
Social media: the final frontier
Social media marketing is a popular way for businesses to gain exposure, and perhaps even customers. But it can be a scary idea, and it's difficult to know where to start.
Sure, it makes sense for a makeup company to have an Instagram account, since the platform is full of influencers and beauty gurus anyway. But what if you're an independent bookkeeper, or a tradie, or any other business that might not otherwise think of having a social media presence?
If you want to make content that people will like and share, then it needs to be content that caters to your audience. And that means knowing where your audience spends their time on social media; as in, what platform are they using?
TikTok is a platform popular predominantly for people under 25, and its content is short-form videos (15 seconds to 3 minutes) that often centre on jumping on trends and using popular audios. You'll see small businesses promoting their beauty and lifestyle products frequently on TikTok.
LinkedIn, however, is more popular for B2B marketers, as its demographics are more predominantly working-aged, professional people. LinkedIn content is way more formal than TikTok, and the most popular posts are often how-to and list-style blogs.
You don't have to pick just one social media platform to use. In fact, it can be advantageous to use multiple platforms so you can experiment with different kinds of content and see what is most popular.
What is shareable content?
Most people use social media platforms to share and communicate with their friends, followers, family, etc; but what does shareable content for your business actually look like?
One thing to note is that shareable content is not necessarily an ad promoting a particular product or service your business sells.  The idea with shareable content, as Olivia Park mentioned to Xero, is that it helps your business gain exposure, and through that spread of awareness clients will find your business and purchase your products.
Here's Olivia Park's Instagram account for her coaching business. Notice anything about the posts on her profile?
None of them are directly advertising or promoting a service that she sells! Instead, they are tips and tricks she has put together, either in short-form videos or easy-to-read text posts.
The idea is that if someone is scrolling through Instagram, perhaps they've searched a hashtag like #workout or #trainingprogram, they will find Olivia's post about working out from home.
They like the tips, and share it with their gym buddy, who then goes on to repost it on their account. Eventually, a whole bunch of people have seen Olivia's post, and even though it wasn't directly advertising her coaching business, lots of people are now aware of Olivia and might follow her account.
It's playing the long game, but it's a free way to gain exposure and build a clientele. By prioritising the social media users' wants and likes above the immediate goal of the business (to make sales), Olivia is able to draw in an audience without spending a cent in advertising money, simply by putting together some helpful workout tips.
How can you make shareable content?
Now that we know what shareable content is and the idea behind it, it's time to start brainstorming ideas for your business. The tips and tricks style of content Olivia does is a great option, but it's not the only way to gain exposure.
Inner West Electrical Solutions shared a video on Facebook of some shocking water damage to a light installation. It might seem like a strange thing to post since it doesn't display the work that they performed, nor does it have any tips or tricks.
But because it's a video with some shock value, posted right around the time where Sydney was experiencing heavy rain, it got more shares than any other recent posts by the business.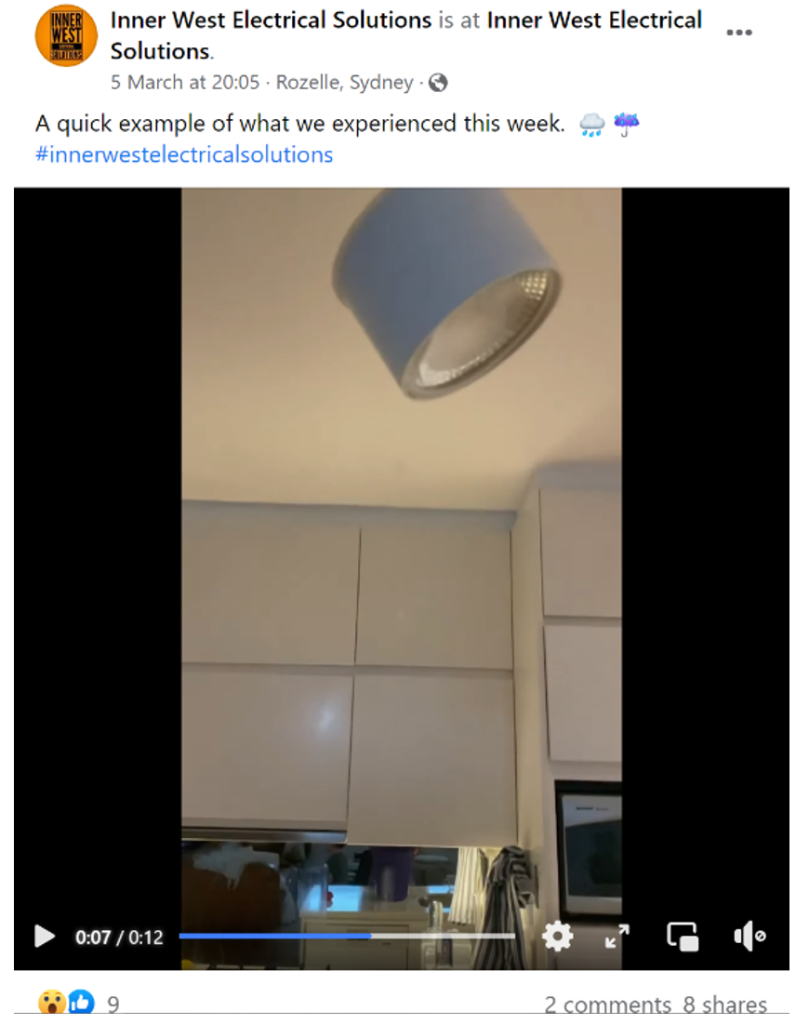 Maybe people shared it with their friends and family who had a similar thing happen to them, or shared it with relatives to show the weather impacts in Sydney.
Whatever the reason, there are now a whole group of people who are aware of Inner West Electrical Solutions all because of an impactful video.
Or (if you're confident in the limelight) you could follow in the footsteps of TikTok sensation Noemi Aguilar Horta, who features herself in most of her videos. She has over 40k followers, and most of her videos use popular trends and audios to promote her bookkeeping business.
This video has over 12k likes, and Noemi is lip-syncing to a funny popular audio to promote her business. Using humour and trends to gain an audience works amazingly for Noemi, and as a small business owner featuring herself in the videos allows viewers to get to know her and trust her.
This type of shareable content obviously isn't for everyone, but if you're confident in front of the camera and like to have a bit of fun, then making TikToks might just be a great way to gain exposure for your business.
Start sharing!
There's no better time to start your social media promotion than now! There'll be some trial and error, but at the end of the day it's all about building a relationship with clients and showcasing your business' goals and services.
It's something you'd already do over the phone or in person, but as social media continues to grow into the world of marketing and business, it's a great (and inexpensive) way to promote and advertise.
Shareable content is just one aspect of social media marketing, and it can work in conjunction with websites, blogs, and/or paid advertisement. You can read more about the big picture of digital marketing here.
Want to learn more about digital and social media marketing? We've got you covered. Have a look at our courses on these topics, or head over to Virion to find out more about digital marketing for your business
-- Did you like what you read? Want to receive these posts via email when they are published? Subscribe below.