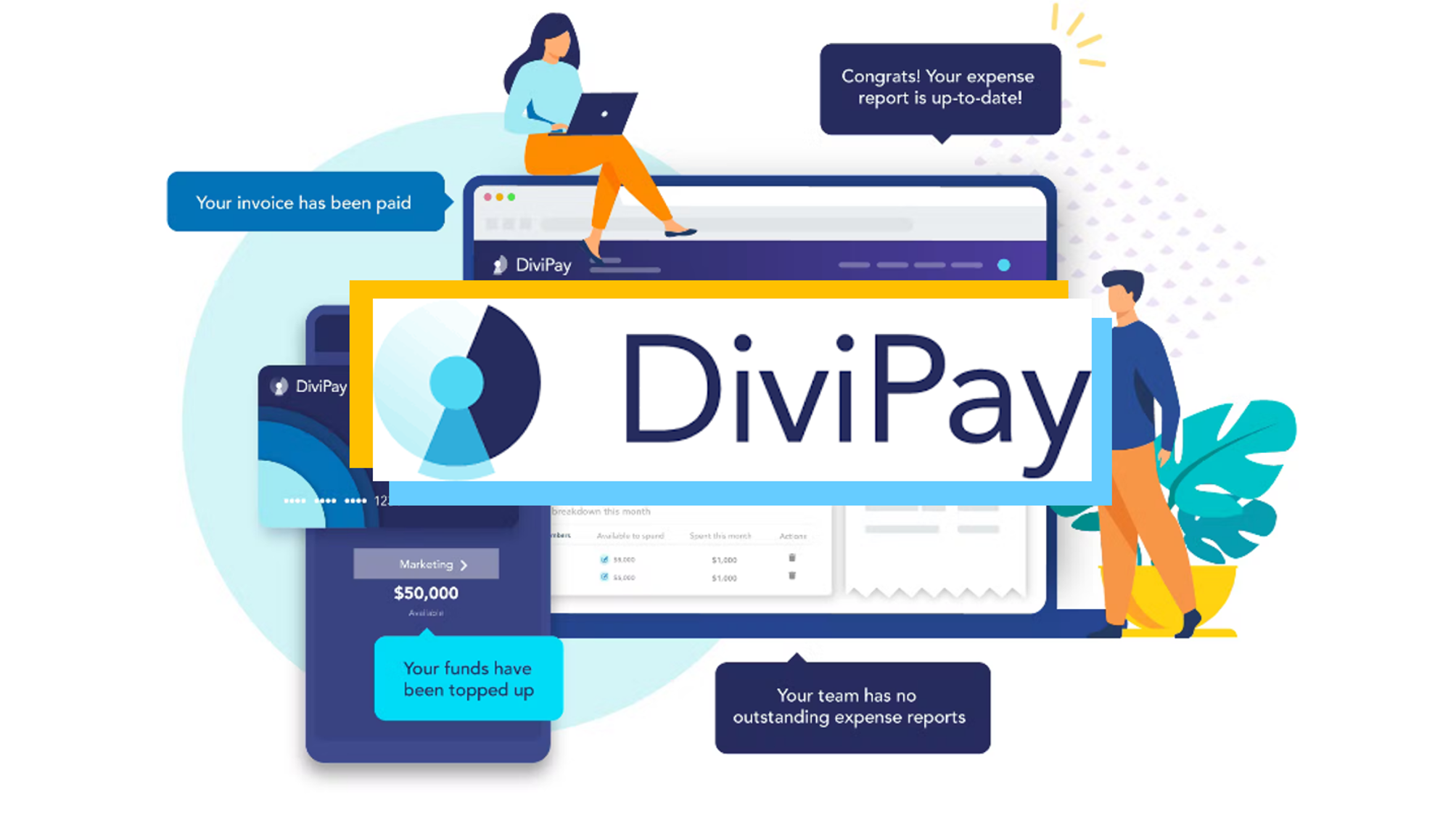 Breaking News & Updates
Expense management is an important thing to have control of in order to keep a business running smoothly. But it can be a time-consuming process, full of paperwork, data entry, and chasing up staff members for receipts and invoices.
Xero's integration with DiviPay promises to make the whole process easier, with seemingly half of it being done by staff members on their mobile phones!
But how does it all work?
What is DiviPay?
DiviPay is a spend management technology that promises to streamline and control business expenses. It's currently focusing on industry sectors such as bookkeeping and accounting, charities and non-profits, education, start-ups, and small businesses.
It includes a number of features, from corporate credit cards to expense reports, and through its integration with multiple accounting software it can automate expense reporting and management, and reduce administrative tasks of staff.
Here are the prices for DiviPay's plan options:
Let's take a look at some of the features:
Virtual company cards
They're just like regular cards, only digital! Through DiviPay, a business can issue unlimited corporate cards to staff members that are protected by Mastercard, Apple Pay and Google Pay's fraud systems.
Funds are loaded to the card through your DiviPay account balance, so the company cards are like a pre-paid expense card. The funds are available as soon as they are added to the account balance.
You can find the card in your digital wallet on your phone, and use it just as you would any other virtual card by holding it over the reader
The cards are accessibly on a mobile device, and staff can use this to pay for expenses in store and online. These cards can be issued, paused, or cancelled without paperwork or a visit to the bank, and allow for real-time visibility of all payment transactions.
Since these cards are virtual, this feature also means that businesses can set budgets and expense limits on specific cards for specific staff members. This means you can create weekly, monthly or one-time-only card limits, set maximum transaction size limits, and lock cards to approved merchants.
There's also the option to set and track weekly, monthly, or one-off budgets made for specific teams, projects, or departments. You can track the budget in real-time, as well as view historical budgets to analyse progress.
Smart receipts and Slyp
Through their partnership with Slyp, DiviPay created smart receipts for purchases made with a DiviPay card as a Slyp-enabled merchant.
A PDF copy of the receipt is stored in DiviPay, as well automatically being exported into your accounting software. Smart receipts are tax-compliant and accepted by auditors.
This means no more chasing up staff members for photos of their paper receipts, as soon as a purchase is made an interactive smart receipt is attached to their expense report.
DiviPay aren't the only ones jumping on the trend of smart receipts – we've written before about how the big banks have slipped some investment funds to Slyp for smart receipts.
Smart Receipts is available in all DiviPay subscription tiers.
Reimbursements
DiviPay also has a solution for transactions that were made without use of a corporate card. If a staff member makes a transaction that requires reimbursement, they can enter all the relevant details on the DiviPay app and be paid automatically once approved.
For any out-of-pocket expenses, a staff member just needs to enter expense details into the DiviPay app. Businesses can control who has access to submit for reimbursement, and the limit below which reimbursements can be issued, and then the bill will only be routed to the suited approver if it meets these criteria.
From there, DiviPay will create a bill within your accounting software for the reimbursement and, if approved, will automatically pay the owed money directly into the staff members' bank account on a date set by the business.
DiviPay says that they will soon introduce a feature whereby reimbursements can be submitted on the go through receipt capture and OCR technology that will automatically create an expense report and submit claims.
Reimbursements is included in all tiers of DiviPay subscriptions.
Automatic bill payment
No more ABA files or manually entering invoice data – DiviPay will do it for you with BPAY or EFT! DiviPay gives you a ubique email to which suppliers can send you your invoices, which will then automatically be coded into bills in both your accounting software and DiviPay.
By adding these bills as payment types to specific budgets, relevant staff members can be selected to receive these bills for review, and if approved it is automatically paid by DiviPay on a scheduled date.
Bill payments are controlled via budgets, and will only process if they are under budget. Automatic bill payments runs at a separate cost to other DiviPay subscriptions, at a rate of $8/month with 10 free invoices, and then an additional fee per extra invoice.
Expesne management
DiviPay claims they are Australia's leading expense management software and can save up to 90% of admin time through their automation and processes.
It's a big claim, but they certainly have a lot of features to help! Not only do they have smart receipts, but the DiviPay mobile app also includes a camera function where staff can capture receipts or tax invoices for inclusion in an expense report.
The camera also uses OCR technology to extract the GST amount directly from the receipt image. Online, you can also drag and drop images to reports.
Receipt scanning and capture has been around for a bit, and we've written before about Xero's acquisition of Hubdoc and MYOB's Intray and Capture.
All transactions made with a DiviPay card require a corresponding expense to report to be completed, so that come reporting time you have all the information you need.
These expense reports can be customised for staff, so you can set up description fields, attendee fields, and custom fields to track against project codes, client names, or job numbers.
The expense management of DiviPay promises to be customisable and automated, so many features of expense reports, like categorisation rules and follow ups with outstanding information, can be set up once and then automated, and personalised to your business needs.
Integration with accounting software
Some of the features above mention how DiviPay can integrate with your accounting software, but it's worth looking at in depth. Especially considering that on the Xero App store, with whom DiviPay integrates, it has a five-star rating!
DiviPay currently integrates with multiple accounting software, including Xero, MYOB, and QuickBooks.
By mapping your chart of accounts to DiviPay's expense categories data can be transported between both systems. Any changes made in DiviPay will be reflected in your accounting software. GL codes and tracking categories will also appear in DiviPay ready for coding.
Receipts and tax invoices will by synced between DiviPay and your accounting software, as well as all other expense data.
Other features
That's not all DiviPay has to offer. DiviPay subscribers also get access to their Rewards program, which gives access to discount codes to products from partners of DiviPay. These are the ones DiviPay advertises on their website: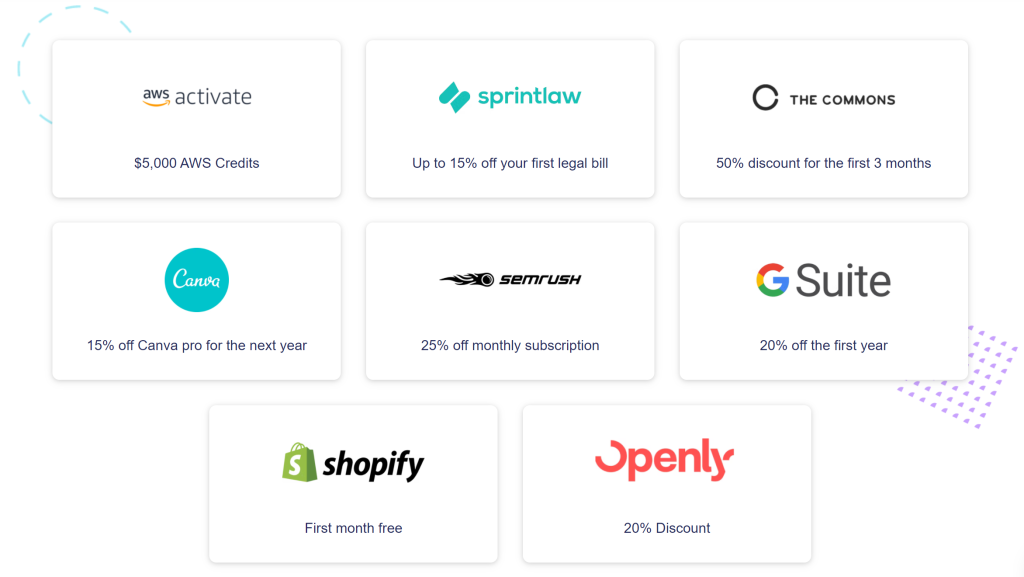 DiviPay also has a line of credit feature, where you can apply to access up to $20,000 of your working capital. This is then deposited to your DiviPay card, and repayments are made via a monthly bill that can be extended upon request.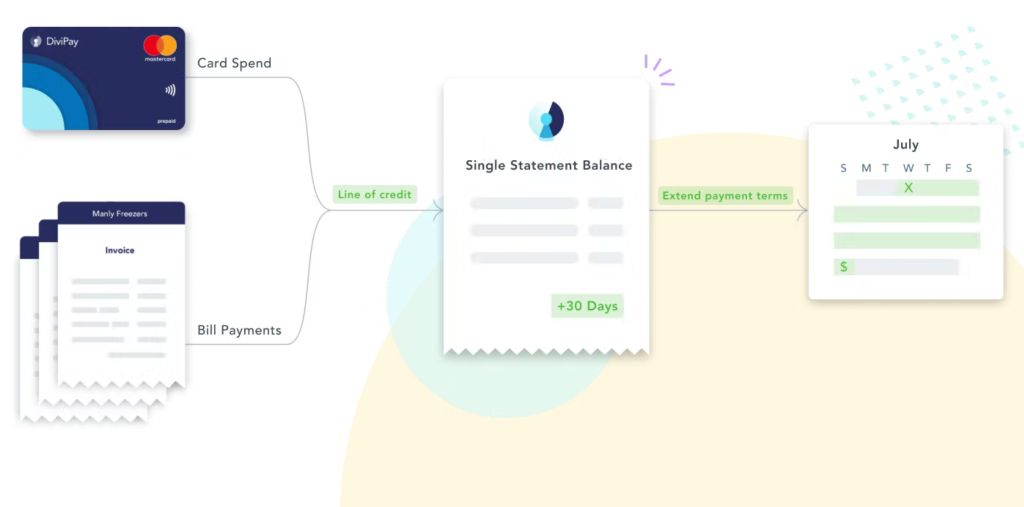 DiviPay and Beforepay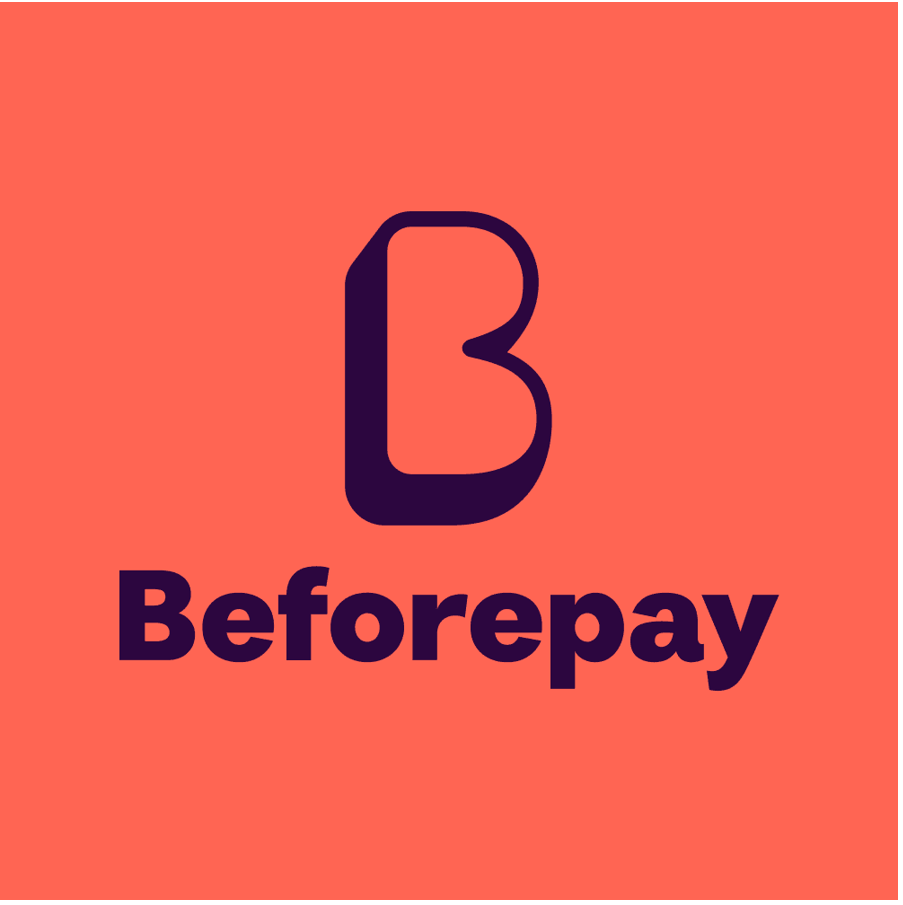 One of the executives on the board of DiviPay, Patrick Tuttle, is no stranger to this industry – he's on the boards of many similar companies, one of which is Beforepay.
Beforepay is like an online payday lender, where you can borrow up to $1200 of your wages at a fixed transaction fee and no interest.
Repayments schedules are matched to your payday, and automatic repayment scheduled in-app to be made the day after your payday, though you can spread them out across up to 4 instalments (4 pay cycles).
You can also get access to spend tracking and personalised budgets, as well as suggestions on how to save money and improve overall spending.
Beforepay's Pay On Demand™ is a pretty nice idea since it means avoiding the pawn shop or cash convertors in order to get paid quickly, but Beforepay's share price has tanked recently.
Like many tech companies, it's been a tough past few years, and Beforepay anticipates further losses as it continues, and considers a possible US expansions, according to the Financial Review.
Learn Xero with EzyLearn
Our Xero courses are some of our most popular – and it's no surprise given how many integrations and features Xero can provide for bookkeepers and accountants.
Our Xero Complete Training Course Package gives you everything you need to perform tasks in this software with confidence and accuracy. It also includes content on receipt scanning and capture, and online accounting integrations, as well as much more!
-- Did you like what you read? Want to receive these posts via email when they are published? Subscribe below.