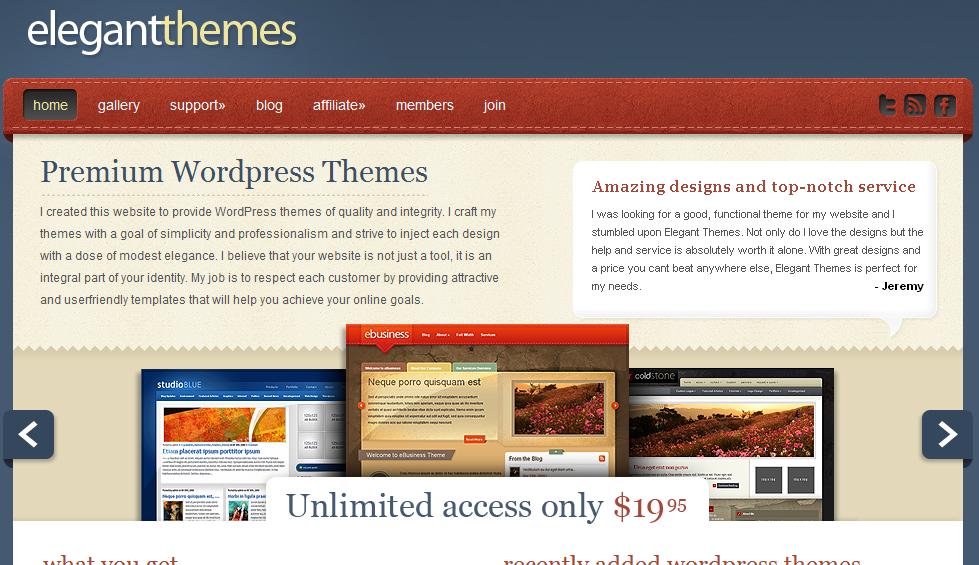 Breaking News & Updates
You can download free WordPress templates, you can design them yourself using Artisteer or you can download them for $50-$150 each. I found someone who creates them, offers support and allows you to use any of the theme templates he has created for $19.95 per year. Even if you just use it to purchase one template you like, the offer made by this company is the way that dedicated and committed businesses should be working.
I started out just using free templates because I didn't know what I was looking for and I didn't know how to use WordPress properly, plus, I was using a different sitebuilder for most of my websites anyway. Then I looked at some of the professional WordPress templates available and didn't like the idea of paying $75 for an excellent theme from Press75 because I figured I may not like it in 6 months, OR I wouldn't be able to get all the features working properly. Instead I purchased Artisteer because I realised I could take any template and customise it completely! I was in complete control. In reality, I then spent a lot of time using Artisteer and realised that I didn't want to design many of my own prefessional templates, I simply wanted to find one that was created by a professional and customise it for my own websites.
I had to find a business that creates professional looking WordPress template themes, would allow me to use a variety of themes they had created and all at a price that was impossible to refuse. I found Elegant Themes by Nick Roach and I'm amazed at how easy he has made it to use any of his themes and how little he charges. Visit his website to see the WordPress themes available: http://bit.ly/aCLCsg
Follow this blog to find out how I went to install and start using the features of the eVid theme…
-- Did you like what you read? Want to receive these posts via email when they are published? Subscribe below.