Breaking News & Updates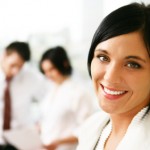 In a recent post we talked about using web analytics to determine your website's conversion rate, which can be used to generate sales leads. Web analytics is something we cover in our Digital Business Course, but for those still unconvinced on the usefulness of analytics, we thought we'd break it down a little further.
Jump On Board the Web Analytics Train
If you're not on board yet, here are four reasons why you should be!
Search engine optimization: like it or not, SEO is still plays a huge part in how your customers arrive at your website. Using analytics you can see exactly what keywords and key phrases your customers are searching. Know this, and you're able to create content that makes it almost impossible not to sign up for that newsletter, download an ebook, etc.
Socially active: everyone knows that social media can drive traffic and result in leads, but what platform is best? Analytics answers this question without even breaking a sweat. For some businesses Facebook is the must-have platform, but for other businesses LinkedIn is more useful, so why waste your time on the wrong one if you don't have to?
A/B split testing: by combining the new-fangled world of web metrics with old school metrics like A/B testing, the internet doesn't combust, but does, in fact, make fine-tuning your call-to-action strategies a cinch — particularly which ones to use and which ones to ditch. We recommend using another piece of software called Optimizely, but more on that later.
Personalise email marketing: ever wondered how to increase the open-rate of your newsletters and emails? Wonder no more! Say a user arrives at an ebook download and then subscribes to your newsletter — does that mean they're interested in a certain product or service? Probably, so why bother them with irrelevant information? This is a particularly useful given the sheer number of emails most people receive today.
By now you should be asking yourself how and where you can find this analytics train so that you can board it. In our Digital Business Course we recommend using Google Analytics because it's free and easy-to-use, which are maybe two of the most important things small business owners care about, right?
***
For small businesses wondering how you can best transition online, either in part or entirely (like EzyLearn did not so long ago), our Digital Business Course has been especially created to demystify this process.
-- Did you like what you read? Want to receive these posts via email when they are published? Subscribe below.