Breaking News & Updates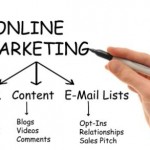 At EzyLearn we offer a number of internet courses and we've recently developed a digital business course designed especially for those people who want to operate an online marketing business. But it's important to realise that knowing about online marketing is vastly different to possessing a knowledge of SEO (or search engine optimisation) and we say this because many people seem to think these two skills sets are one and the same.
Your Online Marketing Strategies Count!
Online advertising may be more accessible than traditional advertising, especially for small businesses, but that doesn't mean you should leave your online marketing strategies to just anyone.
Your business' online marketing strategies should be approached in the same manner as you would any other marketing strategy — or, in fact, any other business strategy. For this reason, a business would employ someone who specialises in online marketing.
Online Marketing is NOT the Same as SEO
But too often, business owners mistake the need for an online marketing assistant with SEO experts when really SEO is just one part of your overall online marketing strategy. The skills sets are also very different. SEO experts are highly skilled in the technical aspects relating to SEO, but usually do not possess any marketing knowledge; knowledge, which is quantifiably different from SEO.
In marketing, you get to understand demographics and how to reach them effectively through different marketing strategies. For instance, it's widely believed that younger generations are the more active online than the baby boomer generation, but that's actually not the case.
The baby boomer generation was really the fad generation — they embraced with great zeal, anything that came along, and they were also far more progressive than the generations before them. If you think about much of the social, political, economic and cultural change that has taken place in the last 50 or 60 years, it was the baby boomers who embraced it.
A marketing expert would know this, but would a technology expert? This is why online marketing assistants need to have skills that go beyond the technical know-how, to skills you find in most traditional marketing professionals.
Our digital business course provides our students with all the skills they'll need to be responsible for:
Working with internal and external partners to achieve successful execution of the plan
Social networks – updating, question answering, troubleshooting
Budget spend monitoring and control, fees, commissions
Web analytics monitoring and reporting against key metrics
Search engine optimization tasks – improving page content, ensuring site structure is efficient, keyword relevancy, product names and tags etc
Email marketing – list maintenance, segmentation, execution, monitoring, reporting.
Affiliation partners – administration of contracts, payment chasing, conversion monitoring and corrective actions.
Paid Search – budget control, key word success tracking, ROI reporting
Data input – dependent on organizations particular needs
Keeping up to date with internet and marketing trends and contribute this knowledge as an integral member of the team
You will find this course an essential aid to starting your own business in bookkeeping or any industry and marketing your product or services. Check it out today!
-- Did you like what you read? Want to receive these posts via email when they are published? Subscribe below.