Breaking News & Updates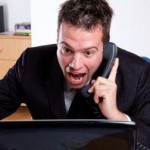 Nearly every company has one – usually as part of their CRM software, but other times it's just a good ol' faithful Excel document. Either way, databases are commonplace in a great deal of companies and they're often used to keep track of communication between staff and their customers.
But what's the rule on commenting in databases, or specifically, leaving negative comments in databases?
Comments – Integral to a Database
Making general comments in a database following a conversation with a client is pretty much standard practice – in many cases, it's often the reason you have a database. In customer service call centres, for example, leaving a detailed comment about the discussion you've had with a customer is expected – and serves as an invaluable resource for the next person who speaks to that customer.
In this instance, it's sometimes appropriate to leave comments about the customer's temperament – angry, rude, upset, and so forth. This just helps the next staff member manage this customer in a manner that suits the circumstances.
But many companies quite commonly also use databases for the express purpose of selling something to a new or potentially new client; negative comments speculating on the temperament or nature of a contact in a database, may not be altogether helpful in this instance.
Reading that the person you're about to call or have a meeting with is a 'disgruntled curmudgeon' is almost certainly going to affect the way you interact with that person. If you go into something expecting hostility, you'll naturally position yourself on the defense, which in turn is only going to illicit hostility back.
Ditching the Negativity
But what if that person was only responding with hostility because you pre-empted their alleged hostility by being defensive in the first place? That's a question you may never know the answer to, unless you ditch the negative comments in your database.
That doesn't mean you can't write useful comments such as "spoke to John, but he said he wasn't interested in our product', but you should definitely avoid comments like 'spoke to John who was extremely rude and said he wasn't interested in our product.' The added detail in the latter is not particularly useful and if that person does ever become a customer it could underscore your interactions with them.
***
It can be a good philosophy to only write the glad, not the bad. Perhaps have a think about that when you leave comments in a database, or make a policy about your own database usage.
-- Did you like what you read? Want to receive these posts via email when they are published? Subscribe below.