Breaking News & Updates
HubSpot is a marketing system and CRM built for the modern day content marketing professional. Like most cloud-based services they have their own app store (they call it an ecosystem) and Xero recently boasted about being one of a select group of 16 promoted by Hubspot. They didn't fair so well though.
Xero Reviews at HubSpot Highlight Importance of 2 Way Comms
Integrations between marketing, operations and accounting are critical for smooth operation of any business so this integration should be seen as a huge bonus. The devil is in the detail however and some users have provided negative reviews for what they see as the short comings of the integration:
Sales Data Normally Goes to Accounts Last

After reading one of the user reviews I found it interesting that the data sync goes from Xero to HubSpot. After all the contact details for most "prospects" would come through the marketing system and end up in accounting when the sale is made but the contact information syncs from Xero? Odd.
HubSpot is a digital marketing system that helps businesses get prospects from initial contact after lead generation through the sales and marketing funnel until they become a client (or not). It was one of the first programs I used that showed me when someone received and read my email – very cool.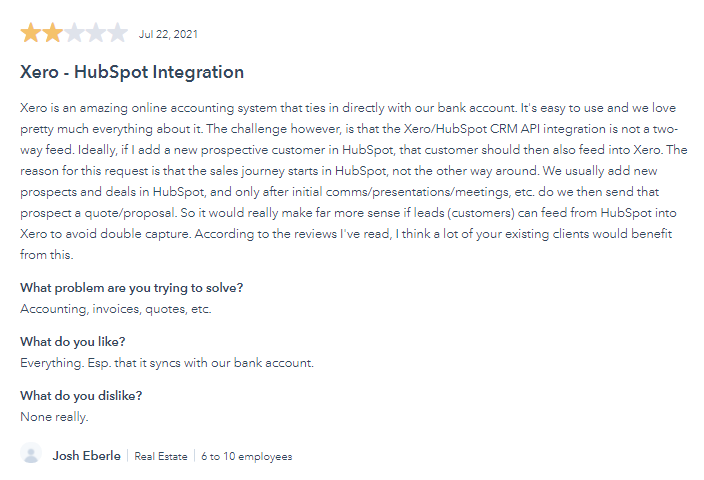 Read some of the reviews for yourself
More Training on Xero Integrations
In case you missed the announcement our Online Accounting Software Integrations Training Course goes through some of the popular integrations for:
Expense Tracking & Receipt Scanning
Rosters/Scheduling Staff & Time & Attendance
Customer Relationship Management (CRM)
Point of Sale (POS)
Payments
Project Management Apps
Debtor and Accounts Receivable Apps
See what is included in the Online Accounting Integrations and Apps Intro Course
-- Did you like what you read? Want to receive these posts via email when they are published? Subscribe below.