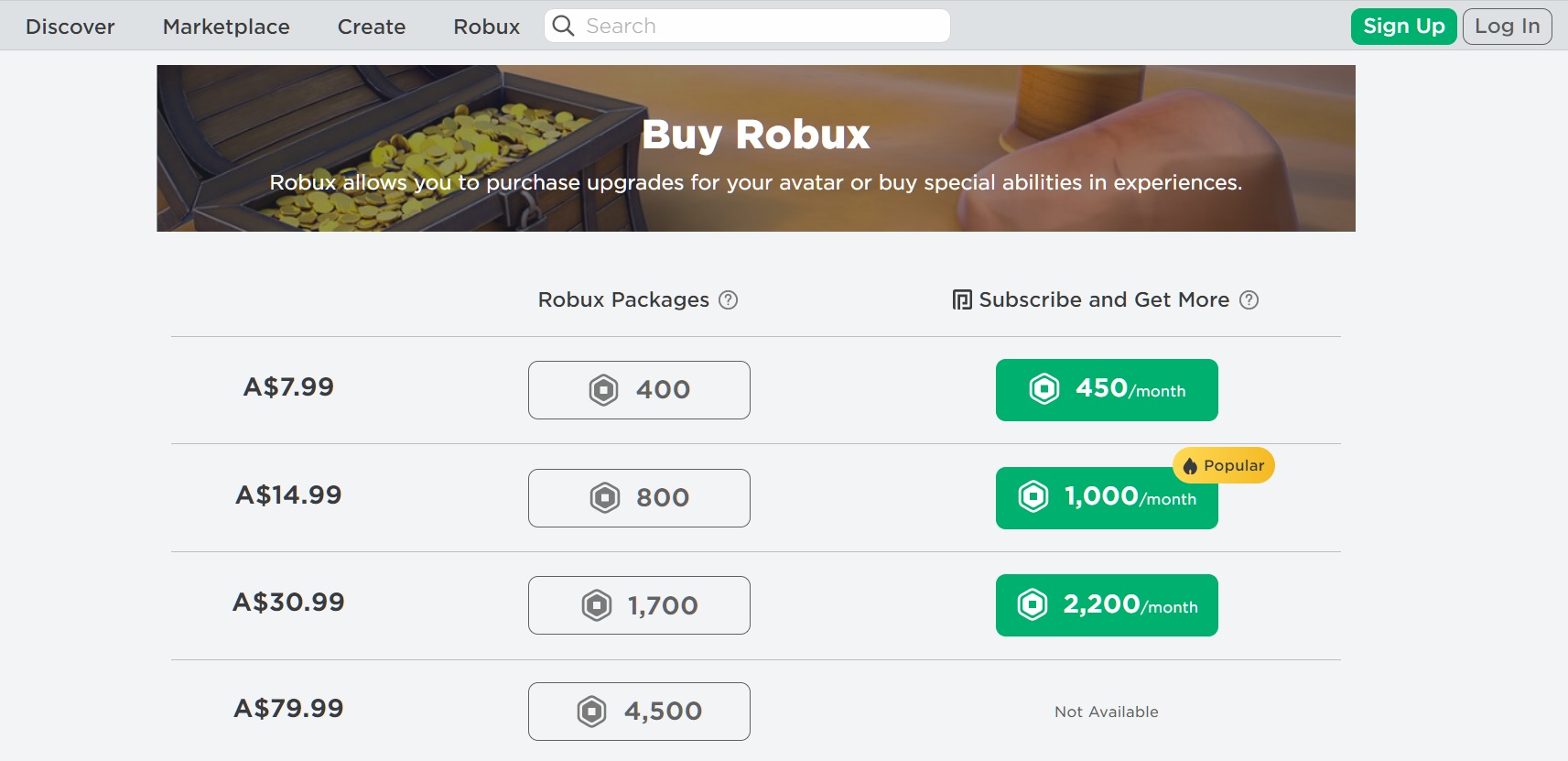 Breaking News & Updates
Roblox is hugely popular amongst young kids and my little girl loves playing it because she gets to interact online with her friends. She also gets to interact with a whole bunch of strangers who can dress up and choose how they want to be seen through their Avatars.
It's a lot of fun and millions of kids are playing this game every day but the company is listed on the New York Stock Exchange and are a "for profit" company that needs to pay the wages of it's 2,100+ workforce (as of Dec 2022).
It was interesting to discover some of the court cases that have involved Roblox but my biggest issue was figuring out how to approach buying their Robux virtual currently so my daughter could buy some cute girl faces, blonde hair and bling!
The Roblox Marketplace
Xero has a marketplace for integrations and apps which connect to it to increase functionality and Roblox also has a marketplace but their is a big difference between them. The Xero marketplace is filled with mostly 3rd party (independent) software company products that add functionality while Roblox is filled with hair pieces, cutesy faces and facial expressions, jewelry and glasses. One notable observation about Xero is that it has consistently purchased important integrations for key features that are lacking in their core software.
The other big difference is how you purchase and use these items.
Businesses explore the Xero Marketplace to find useful software that helps them be more organise and productive and save them time. When you see an integration you like you go ahead to that business website and you sign up to trial or pay to use that software program in conjunction with Xero. The "virtual items" on the Roblox marketplace can only be purchased using Robux, the games Virtual Currency.
Converting Virtual Currencies like Bitcoin and Robux into Real Dollars
Bitcoin and Etherium, as well as DOGEcoin and dozens of other virtual currencies have been in the news a lot in the last 5 years. People like Jack Dorsey (former owner of Twitter) and current owner of Square loves them because they
enable direct transfer of funds between individuals,
eliminate the need for big banks and currency "management" by countries like the US, China and UK etc.
transactions are quick and low cost
Governments don't like them because they loose the controls they have over their own currency. As a result it is hard to convert digital currencies to real dollars (also called Fiat Currency).
Do you remember Bartercard? It was easy to join the membership group and then sell your products and services to earn Bartercard dollars but it was often a bit harder or more expensive to use your Bartercard dollars. But when you take a close look at what "backs" a virtual currency Bartercard makes the most sense because it is backed by products and services from local businesses but that is a story for another time.
Roblox does have a virtual currency and this is what Roblox says about their Robux in a filing with the US Financial Regulator:
Economy. Roblox has a vibrant economy built on a currency called Robux. Users who choose to purchase Robux can spend the currency on experiences and on items for their avatar. Developers and creators earn Robux by building engaging experiences and compelling items that users want to purchase. Roblox enables developers and creators to convert Robux back into real-world currency.

US SEC Filing
Robux is like a gift card or Debit Card that you can top up
You can't just buy a face with pretty blue eyes or some blonde hair on Roblox using a credit card and real dollars – you need to buy Robux in a pack and then spend that virtual currency on the things you want.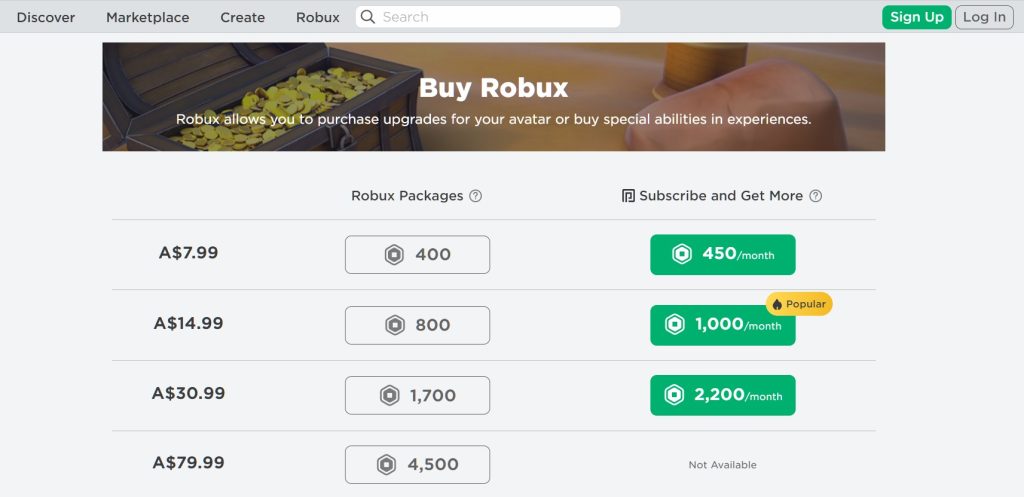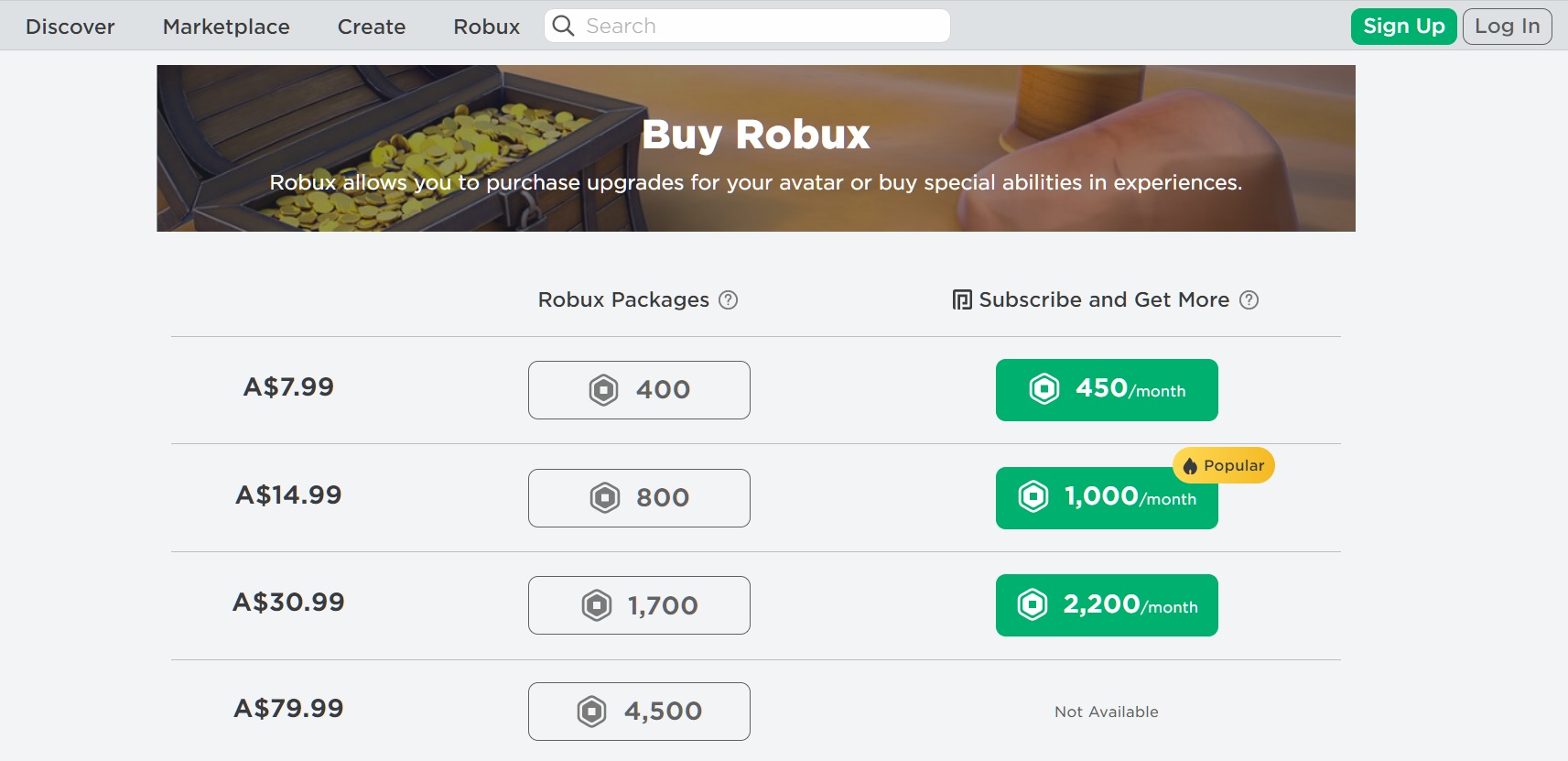 This is where the financial education for kids begins. You have a list of options and price brackets that gets slightly cheaper the more you buy and it looks like AMAZING value because you can buy hundreds of these things for only $8. Subscribe to continuously buy Robux and you get even better value – that seems completely ridiculous that they can even do that, but I guess I am not completely invested in the game and community.
I told my daughter to go and browse through all the items in the market place and "favourite" the ones that she likes and would buy. This way she can explore everything she could possibly want and figure out how much it costs. Then she can make an educated purchase and start using the things that she really wants, rather than have a big pool of Robux that she HAS TO SPEND.
It seemed like such a simple concept that I didn't think too much about it but when you consider that your kids will be faced with hundreds of decisions just like this one, it is an important check and balance to ensure they don't overspend on silly stuff.
Choose the Exact Xero Courses you need
There are 7 individual short courses in Xero included in Xero Complete Training Course so you can choose to enrol into them individually if you just need to learn how to use Xero for Payroll for example.
If you want a Certificate in Xero for Beginner Level users that course is available as a 3 course BUNDLE and so too is the Advanced Certificate in Xero (as a 4 course bundle).
Choose what you need to learn and get one of the best prices for a practical, case study based learning experience with full support.
-- Did you like what you read? Want to receive these posts via email when they are published? Subscribe below.