Mobile number, Bank account number – why can't you keep both!?
Recently, at the suggestion of her accountant, a friend of mine opened a new bank account, to be used strictly as a business account. My friend has been working as an independent contractor for a number of years, but she only ever had the one bank account. This meant, she was using the same account that her invoices were being paid into to buy things like shoes or groceries, which played havoc with her bookkeeping.
Her accountant had been at her to do it for sometime but, even though she knew there was a better business account she could get from another institution, the prospect of changing the account number for all of her direct debits and then advising her clients about the change of banking details seemed too difficult. So she put it off and off, until she finally bit the bullet.
When she first told me about it, I thought, big deal. So you get a new account number and advise people of it, why's that such a problem? That was until I was sent a letter by my old bank to say that they were closing down the Dee Why NAB branch (temporarily) and that I needed to change the BSB component of my bank account number while the branch is closed for renovations in the area. 
What about owning your own account number?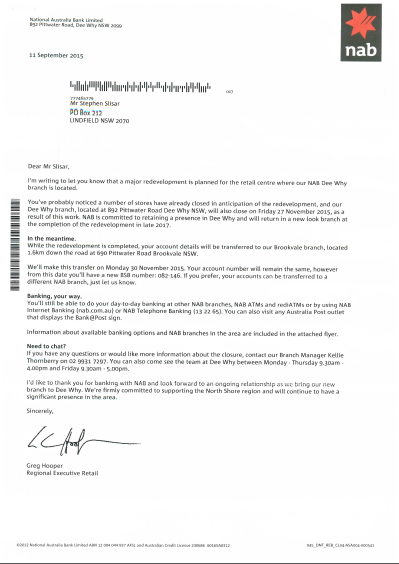 That's when, after some digging, I came across the Accounts 4 Life service, which issues virtual account numbers that, as the business name suggests, is yours for life. In other words, you give your accounts 4 Life number to your billers, employer, the tax office, even, and any time you open a new account, change institutions or are issued with a temporary BSB number, you just link your Accounts 4 Life number to it, rather than notifying each individual entity of your change of bank details.
The basic account is free, which allows you to connect one bank account to your Accounts 4 Life number, while a paid service is also available, which offers more features, including the ability to add multiple accounts.
If you're a business, a virtual account number could become invaluable, particularly if you ever decide to change banks or, even more annoyingly, are issued with a temporary account number, forcing you to advise every single person who pays you via EFT of a change of banking details and then advise them again to resume using your old account number.
Come on NAB, is this really what a first class, top tier bank does in Australia in this day and age?
Virtual account numbers a must for contractors and freelancers
If you're an independent contractor or thinking of becoming one, then, in my opinion, it's a must. Independent contractors are paid, primarily, by direct deposit and the nature of their work means they typically work with a lot of different clients, a lot of the time. The nature of contract or freelance work also means that you might work with one client for a few weeks or months one year, and then not again, for another year, so there's always the chance that their accounts person may pay to your old account once they see you're already set up in their system. Sorting this out if it occurs is not only costly (your bank will charge both parties a fee), but also time consuming, which means you could be without payment for weeks.
Just like my friend needed to separate her business from her personal accounts, most independent contractors and freelancers are advised to do the same, for bookkeeping and tax purposes. So before you do anything, give out any bank details to anyone, look into getting a virtual bank account number first. You can even choose your own account number so it's easy to remember, which, you'd be surprised how useful that is. Click here to see the letter that was sent to me and feel free to share your thoughts on this at our Facebook page.
Ready to start a bookkeeping business?

If working as an independent contractor is something you're interested in, you can read more about freelancing and contracting by subscribing to this blog, or pre-qualify for the National Bookkeeping business opportunity. You'll receive our business software courses, EzyStartUp Business Course AND some templates, artwork, cards etc to help you present yourself to new prospective clients. It's a low cost way to start on the journey of becoming an independent bookkeeping contractor and even working online from home. 
ref 407