Work, Health and Safety is a concern for home offices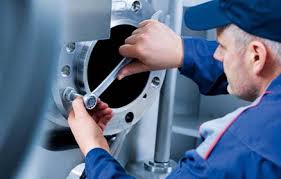 In a few recent posts, I've written about some of the co-working spaces that have cropped up all over our metropolitan suburbs, but in particular, the ones that have started operating out of some of our regional town centres, like the Nexus Hub in Wyong, on the Central Coast of NSW.
All of these smart hubs and co-working spaces have a commitment to the health and safety of the people using their spaces, particularly those smart hubs which are backed by the Government's Smart Work Hub pilot program.
Smart hubs looks out for your ergonomics and health and safety
From providing ergonomic workstations to ensuring common areas are free of debris and other hazardous materials to having any electronics and technology checked and tested to confirm they're fit for use, a commercial co-working space or smart work hub must adhere to a strict WHS policy, as do customers of each smart hub or co-working space.
If you've ever been to a co-working space before, then you've probably been given a WHS procedure document to read and sign. That document sets out the responsibilities the co-working space has to maintaining a safe working environment for everyone visiting the co-working space, as well as the responsibilities you have as a user of the space.
Typical items that you would find in a WHS agreement at a co-working space include:
Adopt a relaxed posture while working
Align computer monitor and keyboard to create comfortable work posture
Clean up any spills and breakages immediately
Notify site supervisor of any broken or damaged power leads.
Teleworkers will also have to adhere to WHS policies, set out by their employer
If you work for a company that has a flexible workplace policy that allows you to work from a different office, from home, or at a co-working space (like the Nexus Hub), then you should be given a teleworking document, outlining your responsibilities when working offsite, and your employer's responsibilities to you too.
In WHS agreement from an employer, you'd typically find item such as:
Traffic ways, hallways, and aisles should be kept well lit and clear of materials, equipment, rubbish, and electric leads
Floors are level and any spills or breakages are cleaned immediately
Freestanding fittings are complete stable or secured to the wall or floor
Filing cabinets do not open into hallways or halls, and filing is performed from bottom up, with only one door open at a time to maintain the cabinet's stability
The temperature should range between 21-24 degrees Celsius with 40-60 percent humidity and good ventilation.
For employers that allow their staff to work from home, the workplace practices and procedures of the agreement is pretty extensive. Some employers may even send a WHS specialist to your home to check that your workstation is ergonomic and also complies with the company's WHS policies and procedures.
But what about you – what are your teleworking WHS guidelines?
But there are a lot of small business owners who work from home; I wonder what their WHS policies and procedures are. I bet they don't have any policies or procedures for WHS; I don't even think many people give much though to the ergonomics of their home office.
How many of you hunch over a laptop most days? Do you have a separate monitor connected your laptop to help with your posture? Do you have a laptop stand? Do you make sure that you take regular breaks, every 30 minutes or so, for at least five minutes to give your body a rest? How many footsteps are you taking each day? Are you getting the 10,000 recommended by the World Heath Organisation to ensure optimum health? (For the record, 10,000 footsteps each day is the equivalent to walking about 9km.)
No WHS guidelines = ill health
If you answered 'no' to any of the above, then you're like the majority of home-based workers, but you're probably also causing yourself untold musculoskeletal problems, from issues ranging from poor posture to shoulder and neck tension (one of the leading causes of tension and migraine headaches) to lower back problems.
Most of these issues can be resolved quite simply by paying better attention to your workspace – ensure your monitor is adjusted to suit your height, and that your keyboard and chair promote good ergonomics. And make sure you take regular breaks and make a decent enough dent in those 10,000 steps each day.
If you've ever suffered from tension headaches from hunching over laptop all day (which a member of my team does), just switching to a desktop PC or making sure you always use a laptop stand.
Even though you might have a healthier state-of-mind working from home – you're not stuck for hours each day in stressful traffic – you might not be healthier physically, unless you take care to implement some basis WHS procedures in your home office, as well as your daily routine.
Are you a business owner? How do you share information about your WH&S Policies and ?
EzyLearn is an online training business and we've been creating our own training courses since 2003 so we have plenty of experience in course design, creating training content, implementing it into an online LMS and managing the enrolment process for thousands of students – we're in a great position to create and manage an online induction system for your contractor management or staff training. Find out about our online induction services and request a quote.