Breaking News & Updates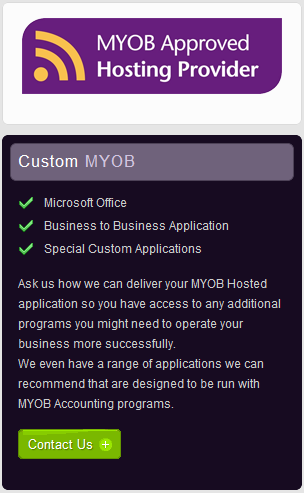 In our research about cloud based accounting software we discovered that MYOB have an approved hosting reseller program. This is a program where MYOB partners with companies who specialise in providing hosting services so that MYOB users can access their data file from anywhere.
We recently spoke to one of those hosting businesses and took their service for a test drive and it was amazingly quick and did everything we needed it to do. We were able to login, access the MYOB data file, create an invoice and email it via the cloud based hosting account!
[quote]This is a definite boon for Remote Contractors who provide bookkeeping services from their own home, like working mums.[/quote]
The term cloud means different things to different people and Heather Cox from asponline wrote an excellent article about hosted MYOB services. We spoke to the people at ozBeanz as well and they have been MYOB Approved Hosting Providers for many, many years.
Do you have any experience using MYOB in the cloud? If you do, we'd like to hear from you at our Facebook page.
Our MYOB training course is also in the cloud so you can complete all 5 MYOB courses no matter where you are.
-- Did you like what you read? Want to receive these posts via email when they are published? Subscribe below.