Breaking News & Updates
Have you ever tried to use Google Maps to get directions to your next appointment? I had a recent experience that made me realise why Google Maps makes you street smart.
Many years ago when we had street directories we could see exactly where we needed to go. We could choose our own path based on our knowledge of the roads and of traffic patterns. Now Google gives you suggestions, but I am not sure they are always the best suggestions.
I've been using Google Maps to find local training companies around Sydney as well as computer shops, employment agencies, job network agencies and other companies in the career and recruitment fields so that I can tell them about our MYOB Bookkeeping Training Courses and bring them on board as partners. I know that many of us take it for granted these days, but I am reminded of how powerful our mobile phones and internet searching has become! I wrote about this for local business marketing back in 2010 in my personal blog.
I've gone to Google Maps on my Android Smartphone and searched for computer shops and up comes a map with a whole bunch of dots and placemarks (like in the image). If you click the place mark you get information about that business and can then call them directly from this information! Google users can also write reviews about your business so watch this space.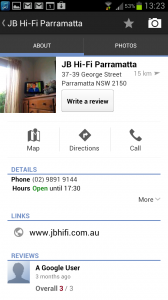 You also have the ability to get directions and this is the part that I always find interesting. Having grown up in Sydney I know how to get around and often I am presented with driving suggestions that I don't agree with. When I use my gut instincts I end up getting to the destination on time and without frustration and I wanted to share this with you because I think it demonstrates that technology is only here to make our lives easier. We still have to make the right decisions regarding the information that technology gives us.
In the end your own experience will tell you which way to go and there is no better feeling than using and trusting in your own instincts. Google Maps makes you street smart because your own local knowledge is often better than that of a machine and it's always good to trust your own instincts.
PS. It's interesting to see a photo for JB Hi-Fi that appears to be from someone's bedroom…
-- Did you like what you read? Want to receive these posts via email when they are published? Subscribe below.