Breaking News & Updates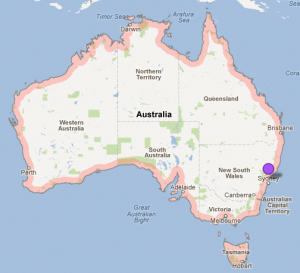 Our most recent MYOB Bookkeeper Training and Microsoft Excel Course graduates have just received their certificates and going through the records it was fantastic to see how many people we are able to help from all over Australia.
When we operated our Sydney training centres in Dee Why (near Brookvale), Gordon (near Chatswood), Parramatta and Burwood we noticed that students would travel a long way to come to our training centres. I won't even get started about how they would have to try to find somewhere to park, with parking time limits etc etc.
In looking at our recent graduates it gives me a great feeling to know that we are teaching people all over Australia and New Zealand to use MYOB to help them find bookkeeping/accounting jobs or starting their own bookkeeping businesses. Here's where some of our recent students live and what they said about the course:
Samantha from Agaston, South Australia
Agaston is near Nurioopta, Williamstown and Gawler
The fact that I could start and continue the course when I had the time. It was easy to understand and use.
Wendy from Surry Hills (Sydney), New South Wales
Surry Hills is near Paddington, Alexandria and Haymarket
I can study at my own time
Beverly from Butler, Western Australia
Butler is very North Perth, near Joondalup
Being able to learn at my own pace online.
Geoff from Epping, Victoria
Epping is surrounded by Bundoora, Campbellfield and Craigieburn
Learning more about short cuts and the really powerful nature and depth available in Excel, particularly in Course 303, was most enlightening and beneficial.
Really appreciate the learning at your own pace aspect and the lifetime course and excellent material content. Thank you so much for such an excellent course presented at an affordable price.
Anne-Maree from Sippy Downs, Queensland
Sippy Downs is near Buderim, Mooloolaba, Maroochydore and Caloundra, north of Brisbane
Nice short videos so you could take breaks and it wasn't hard to find a certain video if you had to look back over something
Rebecca from Wodonga, Victoria
Wodonga is near Albury on the NSW and Victoria border
Easy to navigate around the site. I liked the short video presentations. If I was interuppted for whatever reason, you never missed too much and it was easy enough to replay.
Carmen from Ruse, New South Wales
Ruse is south west of Sydney, past Prestons and near Campbelltown and Narellan
The sort videos, easy to process and understand the information when presented this way.
-- Did you like what you read? Want to receive these posts via email when they are published? Subscribe below.