Breaking News & Updates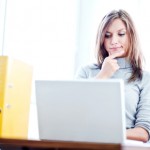 January is when we're busiest processing enrolments in our MYOB courses, our Small Business Management courses and so on, and we've always been happy to be able to provide people with the training they need to make the career change they've been dreaming of. This January we also wanted to give you some advice on the two most dreaded aspects of applying for a new job: CVs and cover letters.
In a recent post we spoke to Fiona Neumann, a recruitment specialist and the director of Skills Savvy, a Sydney-based recruitment firm that specialises in helping people to re-enter the workforce following redundancies, raising the kids, or simply because they want to make a career change.
Fiona helped demystify the CV-writing process, which at one time or another has puzzled even the best of us. But in a job market where redundancies are almost commonplace, writing a CV is not just puzzling, it's very often daunting, particularly for those people starting their career afresh.
Writing a Cover Letter Doesn't Need to be Daunting!
But here's the good news: it doesn't need to be. Getting the job of your dreams has a lot to do with your ability to articulate yourself, which is where the cover letter comes into play.
It's fair to say that many people see a cover letter as an afterthought; the way people see wrapping paper as the afterthought to a great gift. They spend all their time laboriously writing and fine-tuning their CV, to then put together a slap-dash covering letter just so that Seek will accept their job application.
Mistake. Big one.
Linking Back and Clarifying Your CV
Your cover letter is just as important as your CV. Aside from reinforcing all the information you've put into your CV, it shows that you didn't mean to apply to some other job listed on Gumtree, and importantly, it allows you to show a recruiter or hiring manager why you're suddenly looking to re-enter the workforce after several years of being out of it.
The key here is to be clear and concise. If you've been raising the kids for the last six years, write that. Don't be vague and allude to something that could be interpreted as raising children or… being in prison.
But also don't write a flowery vignette of your life. You need to show why you're applying for the job you are; if it involves are change of field or industry, then explain why; why you're qualified for the job, but not overqualified—this is important, because people that are overqualified are, to an employer, risky: you could get bored and leave, want more money than they can offer, or have difficulty with authority being that you've always been The Authority.
But remember: be clear and concise. And above all: don't be bland. Recruiters read through hundreds of cover letters; they're looking for the most qualified, most desirable person for the job. Don't leave them wondering why you applied for the position you did. For some CV-writing help see this post; for help up-skilling, see the training courses we have on offer here.
-- Did you like what you read? Want to receive these posts via email when they are published? Subscribe below.