Breaking News & Updates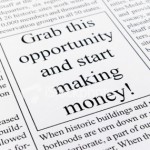 There's a module in our Small Business Management Course about marketing and undertaking marketing activities, and in that module you learn about researching the market and determining the best mediums to use to advertise your business.
With the advent of the Internet and social media, there's been a lot of discussion about declining advertising revenues in newspapers, which has led many business owners and marketers to erroneously think that advertising in the newspaper is no longer efficient.
But really, advertising in the paper is just as efficient as it ever was – it all depends on the business and whether a newspaper is the right medium for it.
So what businesses should advertise in the paper?
Where Oh Where to Advertise?
The answer to that question really depends on the business and the newspaper. For a local business, like a restaurant or a retailer or a plumber looking for local customers, a newspaper that's highly read and engaged with by the local community is definitely the way to go, as opposed to a larger metropolitan newspaper.
But it's important that you consider why you're advertising in the first place. If you're looking to build brand awareness, a regular advertisement in a relevant section – such as dining, or professional services, for example – over a significant period of time will pay off.
If you're looking for new customers and fast, then a smaller number of ads, towards the front of the paper clearly advertising that you're opening soon or running a special deal will deliver the immediacy you're looking for.
How Far Will People Go?
It's important to remember that the majority of people don't travel further than between 3 and 3.5 kilometres to do their groceries, and a maximum of about 12 kilometres for larger purchases like a car or white goods.
This is what makes local newspapers highly efficient for local businesses, whereas national businesses find both local and national newspapers efficient in delivering their customers.
Global Reach
But what if you're not looking for local customers from any specific region because you're an online business whose customers can reside anywhere in the world?
In this instance, a local newspaper, while it would deliver a number of highly engaged customers, would only deliver a small section of your target market, making it highly costly.
While metropolitan or national newspapers would work better here, they still wouldn't deliver those overseas customers. This is where online and social media advertising may work better for you, assuming that it's highly targeted the your ideal customer.
***
The key to successful marketing is always understanding exactly who your customer is. This comes from efficient market research prior to starting your business. It's for this reason that we recently introduced a new short course called the originate and develop new concepts course, which takes you through the all-important first step of business: researching the market.
For more information on our originate and develop new concepts course, visit our website or contact us for more information.
-- Did you like what you read? Want to receive these posts via email when they are published? Subscribe below.