Breaking News & Updates
Who is Behind QuickBooks Online?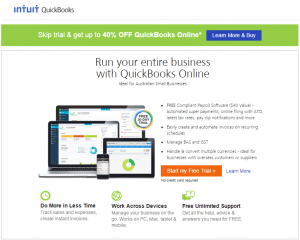 It was once seen as the biggest competitor to MYOB in Australia when accounting software reduced in cost from several thousand dollars (for software like Attache) to several hundred dollars. It was the time when the PC was the craze and suddenly normal people could do their own bookkeeping – so they say. I'm talking of course about QuickBooks.
I was doing some Google searches this morning about QuickBooks Online because I was interested in seeing how Reckon and Intuit now differentiate themselves online and I discovered a couple interesting things. The most interesting to me is how many companies are now putting up a landing page that expects you to make a purchase or sign up right there and then.
Landing Pages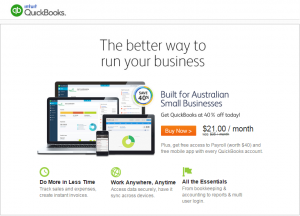 Here are the two landing pages that I discovered when searching for QuickBooks Online on Google. One offers a massive 40% off if you skip the trial and the other says the same message but the action button says "Start My Free Trial". To me it seems like they are still perfecting their online strategy and are doing some beta testing on what potential customers will do.
What I find most interesting about the current QuickBooks strategy is the expectation that people will register or buy straight away! Perhaps they will when this ad comes up because they have actually searched specifically for "QuickBooks" rather than just online bookkeeping or accounting software, cloud accounting comparisons etc.
Marketing Your Business on Google
Pretty soon, we'll feature our own bookkeeper directory so every piece of information like this we see we make a note of to see if it is something we can use ourselves.
This also demonstrates something we cover in our Small Business Management Course about testing and measuring – that you don't always get your message across perfectly every time. The most important thing to do is to make a plan and get started. The best thing you can do is take action and start, then you can measure the results and fine tune, tweak or completely change your marketing strategy.
Share Your Opinion About QuickBooks
I was looking at some of the bookkeepers in our bookkeeper directory and noticed that a good number of bookkeepers still use QuickBooks and know about it. I'm interested in hearing your thoughts and opinions about it.
Do you use it?
Do you prefer it to MYOB or Xero?
Are there things that QuickBooks Online do better than MYOB or Xero?
Do you still work with Reckon (who use to distribute Intuit products in Australia) and their online accounting software?
If you have something to share simply send us an email to support @ ezylearn.com.au or post your comments on our Facebook page.
-- Did you like what you read? Want to receive these posts via email when they are published? Subscribe below.