Breaking News & Updates
Could the future be fully automated marketing campaigns with Xero's pal, BOMA?
XERO HAS A NEW bookkeeper and accountant platform, Xero HQ, which is available to Xero Partners, and includes a whole new app marketplace geared towards bookkeepers and accountants with a minimum of 100 clients.
One of the most recommended apps in the HQ partner app marketplace, was BOMA, a marketing and advertising platform that lets you create and broadcast marketing and advertising messages across five channels (email, Facebook, Instagram, LinkedIn, Twitter).
How BOMA is different
There are lots of marketing automation platforms on the market (MailChimp, Aweber, Constant Contact, Get Response, to name a few), so BOMA is competing in a crowded space. The first difference you'll notice between BOMA and the market leader, MailChimp, is the price.
BOMA charges a minimum of $49 U.S. ($67.74 UD) a month to create unlimited social media marketing campaigns and send unlimited emails to 500 contacts; by contrast, MailChimp charges $10 U.S. ($13.43 AUD).
But MailChimp doesn't integrate with Xero, so you need to import your contacts some other way (an Excel spreadsheet and by capturing data using an "opt-in" button). You also can't create marketing or advertising campaigns for LinkedIn or Twitter in MailChimp, though it does support creating re-targeting advertisements for Google.
Content creation in BOMA
The most time-consuming aspect of any marketing or advertising campaign is the design stage. MailChimp provides templates, but unless you want to use the pre-designed templates, you need to bring your own images. Or pay to access an image library like Getty Images. Included in BOMA's monthly fee is free access to a library of 250,000 images.
Once you've created your design, BOMA will automatically re-format it to fit any marketing channel, be it email, Facebook newsfeed posts, Instagram sponsored posts, and so on.
Automation and analysis in BOMA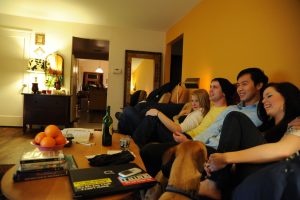 BOMA uses machine learning, a sub branch of artificial intelligence, to power its contact segment feature. Machine learning is just as it sounds: machines learning to do things. It's what powers the Netflix algorithm that recommends films and TV shows to you based on what you've viewed previously.
Without machine learning, Netflix wouldn't be able to make individual recommendations (six or seven action movies with a strong female lead), but rather present a large pool of raw data (it's entire library of action movies) for you to choose from.
And just as with Netflix, the more you use BOMA to send marketing and advertising campaigns, the better its insights will become.
Each time you send an email campaign, for instance, BOMA collects and analyses data about each individual contact so that it can make recommendations based on its analysis of that data: the best time to email certain contacts or the types of messages they respond to, and so on.
This is different to MailChimp and other platforms, which collect that data, but leave the analysis to you.
The Xero and BOMA partnership means that, aside from syncing client data in Xero with BOMA, you're also given access to an exclusive library of content, covering a range of topics — "why use business software", "get paid faster", "create the perfect business plan" — that you can push out to your social channels.
In the future, if this integration was powered by machine learning, BOMA could create and send campaigns of pre-written content to an approved contact list at the times an algorithm has determined will be most effective, without any input from the user.
In the future, if this integration was powered by machine learning, BOMA could create and send campaigns of pre-written content to an approved contact list at the times an algorithm has determined will be most effective, without any input from the user.
What about MYOB and QuickBooks?
That's a ways off yet, though. That's because BOMA is a startup, and it's still in the process of developing and turning on features that are standard on many other platforms. (It only recently made it possible to upload contacts from a CSV file, for example.) Getting to partner with one of the world's largest cloud accounting applications is a major win, especially when Xero has given it top billing in its HQ partner app marketplace.
So if you search the BOMA website for any mentions of MYOB or QuickBooks, you won't find one; not even so much as a passing mention to say it doesn't integrate or support MYOB or QuickBooks.
The Xero/BOMA partnership
Who knows what the future might bring, but this is a platform play for Xero. And Xero has said plenty of times in the past that it would rather partner with third party providers, than develop their own services from scratch. If one starts to make real inroads, and it seems like a good long-term match for Xero, perhaps Xero will acquire it, but most likely it won't.
And in the immediate short-term, BOMA ticks a couple of boxes for Xero: It provides a service that nearly every mid-size business needs, and it encourages bookkeepers and accountants to stay within the Xero ecosystem.
Xero is enticing to startups and app developers, because they offer a partnership, but don't control how startups and their businesses operate. Currently, MYOB and QuickBooks don't offer any such partnership, and that's giving Xero the upper hand.  
***
We are always exploring and analysing new and emerging technologies and introducing new content as part of our Updates and Additions policy. Any new content we add to the course in which you're enrolled is yours' for free if you're a current EzyLearn student. Find out more about our suite of Xero online training courses.
---
-- Did you like what you read? Want to receive these posts via email when they are published? Subscribe below.