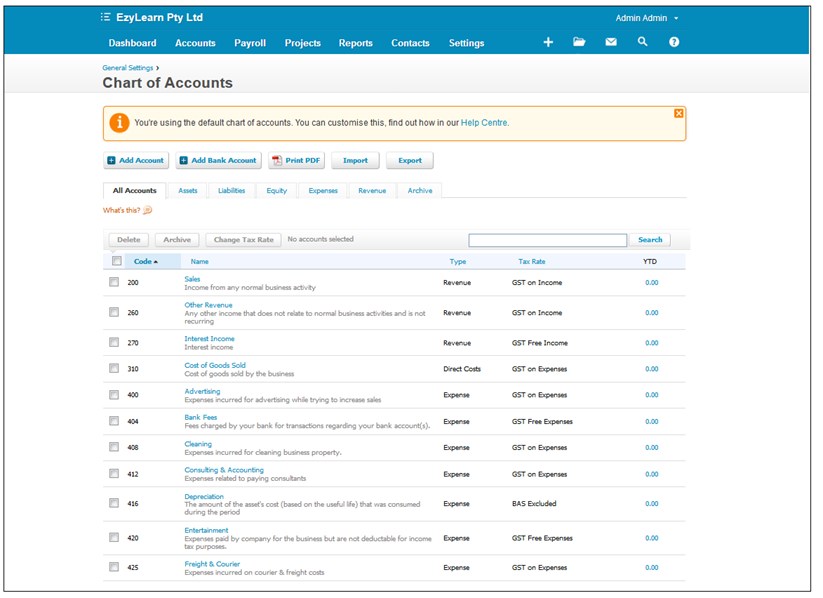 Breaking News & Updates
We created a free educational guide, called Introduction to Bookkeeping Beginner Basics, which is available to download from the EzyLearn website, and to complement that guide, we've been publishing a series of blog posts, also titled Bookkeeping Basics. We're now three posts in, and we're going to be look at the chart of accounts, which is the foundational element of every business's accounting system. The Bookkeeping Basics guide will take you through how to set up a chart of accounts in your accounting software, whether you're using Xero, MYOB or QuickBooks, while this blog post is going to explain why it's important.
What is a chart of accounts?
The chart of accounts (COA) is an organisational tool that lists every account in a business's account system. In the context of bookkeeping, 'account' is used to refer to a unique record for each type of asset, liability, equity, revenue and expense. So a chart of accounts, then, is just a system that organises your finances so that your reports make more sense and you can easily see the financial health of your business.
A well-designed COA helps the business to comply with financial reporting standards, and should be flexible enough so that a business can tailor its chart of accounts to best suit its needs. Within the categories of operating revenues and operating expenses, for instance, the accounts might be further organised by business function or by company divisions. As such, a COA can be as large and as complex as the business itself.
Understanding your 'accounts'
When you set up your chart of accounts, it will be organised the same way every other company does – your banks accounts come first, then all assets, liabilities, equity, income, and expenses in that order. Here's what each of those accounts mean:
Assets:
Your accounts receivables are considered an asset, as is your income, but the two are completely different things. Accounts receivables are business claims against the property of a customer that's occurred following the sale of goods and/or services, and income is what you have collected from the sale of those goods or services.
In other words, if you invoice a customer and give them time to pay, then that's 'accounts receivable'. When you collect the money and deposit it into your account, it's 'income'.
Learn about Accounts Receivables tasks in the Daily Data Entry Transactions courses for MYOB, Xero or QuickBooks Online.
Liabilities:
Liabilities are notes owed by the business. If you lease anything or you're buying anything on credit – this includes suppliers who extend a line of credit to you – then it's considered a liability.
Equity:
An equity account would be any equipment the company has paid for, or would receive money for if it is sold. Cars, machinery, and certain office equipment are all considered equity. If you had a loan on a business vehicle, the payments you make would be considered a liability, but the vehicle itself would be equity. Each time you make a payment, the liability goes down, while the amount of the equity account would increase. To keep your balance sheet accurate, you need to track both.
Expenses:
Finally, expenses are just that: the money paid by the business for the operation and production of goods and services that are paid for immediately. This includes things like stationery or fuel for a business vehicle, which are paid for at the point of sale, is an expense, where a telephone bill that allows you 14 days to pay, on the other hand, is a liability.
Why a chart of accounts is important
Whether you're using an old fashioned pencil and paper, an excel spreadsheet, or more sophisticated accounting software, such as MYOB or Xero, it's important to know where your money is coming from and where it's going to. A chart of accounts is the organisational tool that allows you to do that. And it's important to keep it up-to-date, so that, if for any reason, you want a picture of how your business is performing financially, your reports will be accurate.
This blog post is part of our Bookkeeping Basics series, which are being published to complement our new educational guide, also titled Bookkeeping Basics, which you can download for free from the EzyLearn website.
-- Did you like what you read? Want to receive these posts via email when they are published? Subscribe below.