Breaking News & Updates
There are dozens of new office admin & bookkeeping job ads EVERY day, even for remote workers! Find out how to get them via email
When you're serious about finding a good office administration or bookkeeping job it pays to have alerts set up on the most popular job search sites. Job alerts save you a lot of time by not having to manually search the same criteria each day, and ensure that you automatically receive email notifications as soon as new jobs become available.
Job alerts also allow you to find out what employers are looking for right now and which tasks they need their job seekers to perform.
With this information you can refine your searches even further to find the jobs most suited to your skills and experience, and then use the criteria to match skills in your resumé and job applications.
Alerts – How They Work
Job search sites SEEK and Indeed both provide an Alerts feature to help you find jobs in your local area based on your selected job criteria.
Using SEEK for Accounts Jobs
You can create a list of up to 10 saved searches and choose which ones you would like to receive email alerts for. If there are any jobs posted within the last 24 hours that match your saved search, SEEK will send you an email.
Depending on the number of roles that are advertised, you may receive it daily, weekly or monthly. For example, if there is only one job ad per month that matches the role you're searching for, you will only receive an email once per month.
Each SEEK email alert sends you a maximum of 20 matching jobs.
Using Indeed for Accounts Jobs
Indeed will email you on a daily basis with any new matches to your searches. It's simply a matter of activating email alerts for each search that you choose. (See below for step-by-step instructions).
Setting Up Your Alerts
SEEK and Indeed each have different methods for creating job alerts, however before you get started there are a few things you need to do first.
STEP 1: Define Your Job Description
Be clear about the type of job you want to apply for. The broader your search terms, the more results will be returned, so it's important not to limit your searches too much when you first begin. You can always amend your searches later and narrow the field down to more relevant positions.
Here are some of the most common office administration and bookkeeping tasks you can expect to see in job advertisements. Choose which ones you would like to include in your own job description:
Accounts Receivable Job Description
Records, verifies and enters customer payments in accounting software
Reconciles accounts receivable ledger
Prepare customer / client statements, invoices and bills
Follow-up on outstanding / overdue customer statements, invoices and bills
Implement customer payment plans where appropriate
Coordinate contact with collections agency where appropriate
Prepare reports and perform other administrative duties.
Accounts Payable Job Description
Review, verify and pay invoices from suppliers and vendors
Verify vendor and supplier accounts by checking ABN and ACN numbers
Disburse petty cash by recording the entry, verifying documentation
Arrange payment plans with suppliers and vendors where appropriate
Prepare reports and perform other administrative duties.
Office Administration Job Description
Data entry of work order information
Customer service via phone or email
Preparing and maintaining spreadsheet data
General administration duties
Filing of paperwork and digital files
Maintaining office supplies
Assisting with and updating daily, weekly and monthly reports
Assisting management, accounting and administration teams
Exposure to beginner level knowledge of accounting software
Process all payroll transactions based on employee timesheets and employment contracts
Collect and update employee information to maintain payroll records
Compile summaries of earnings, taxes, deductions, leave entitlements, disability, and non-taxable wages
Resolve payroll discrepancies
Calculate payroll liabilities, such as payroll tax, workers' compensation payments, etc
Prepare reports and perform other administrative duties.
STEP 2: Select Matching Keywords
Choose the search keywords that will deliver the most relevant job ads to your inbox.
For example:
Xero accounts receivable
Xero payroll
Online customer service
Virtual assistant
Data entry
STEP 3: Location
You can select the State you wish to work in and narrow it down to capital cities and regions.
If you are working online and want to make yourself available to employers anywhere in Australia, you can choose 'Remote – Work From Home'.
STEP 4: Work Type
Select the jobs which match your availability:
Full-time,
part-time,
casual/vacation or
contract/temp.
STEP 5: Salary Estimate
Unless you have a specific salary range in mind, it's better to leave this search field set to the default until you have a better idea of what employers are offering.
STEP 6: Search and Create Alert
Saved Searches in SEEK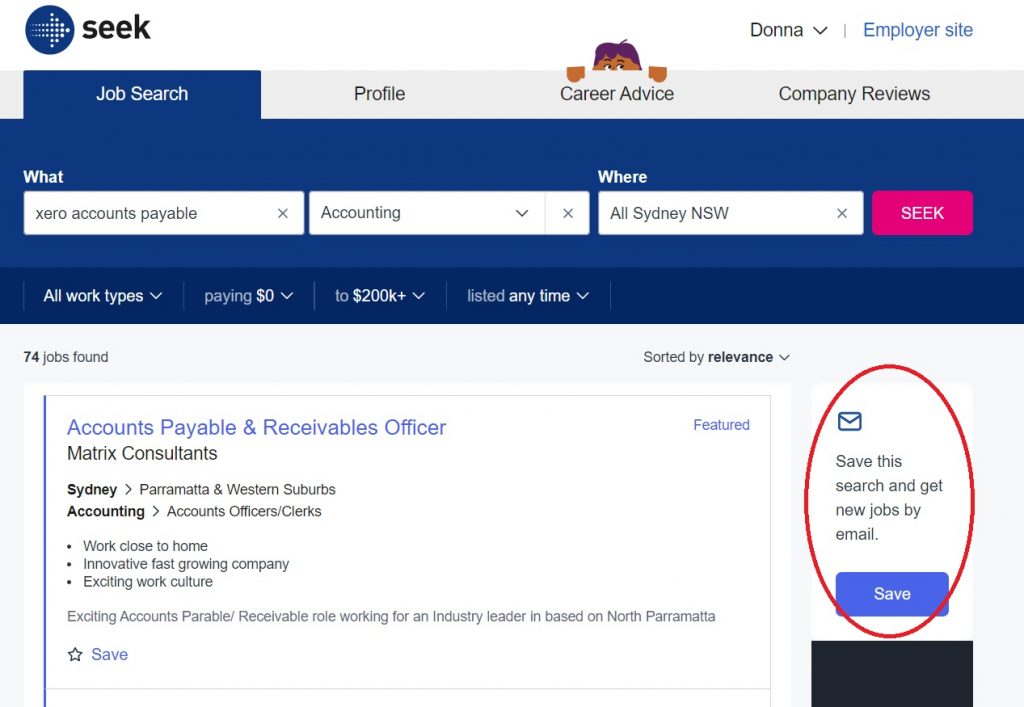 To create an Alert in SEEK:

Search for a job and click the Save button to the right of the search results.
Saved Searches in Indeed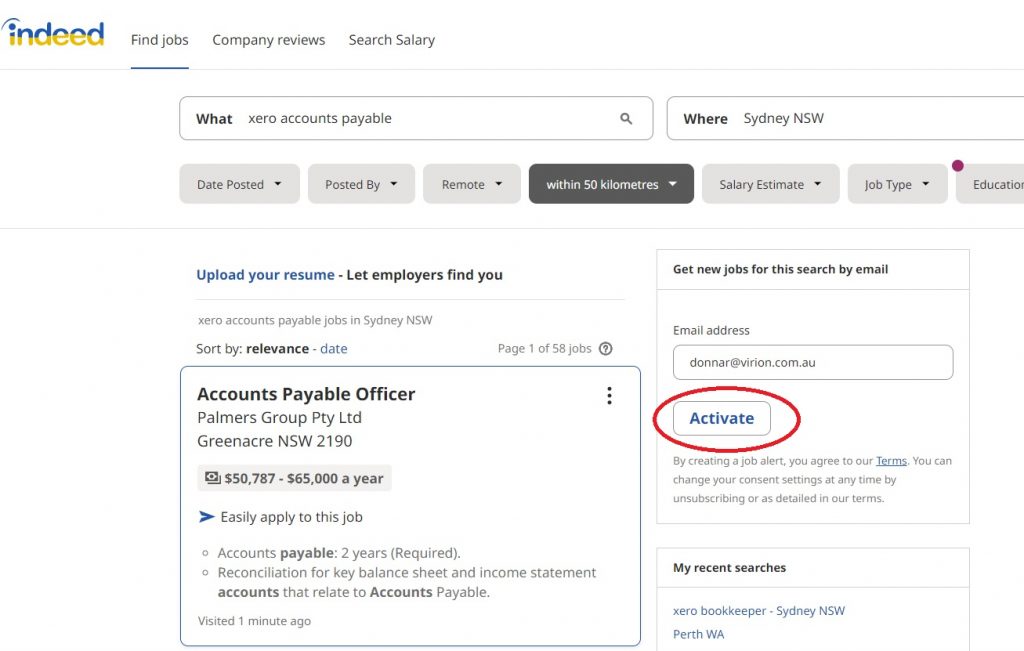 Perform the search you want to be notified of on Indeed.
Find the "Be the first to see new jobs" box at the top of the right-hand side of the results page.
If necessary, click the 'X' in the upper right-hand corner of the job description panel to uncover the sign-up box.
Enter your email address (this is usually pre-filled) and click "Activate."
You should receive your first Job Alert email within 24 hours. With an Indeed account, you can manage your alerts through the Email Preferences page if you want to toggle them on and off.
Summary
Job alerts are the fastest and easiest way to stay on top of job opportunities. Keep your finger on the pulse of the industry by monitoring job movements and employer requirements.
Ensure that you apply for positions promptly.
Do your research on the company and the position, and match the listed job criteria in your resumé and cover letter. Many larger corporations will use application skimming software to screen for keywords that match their requirements before a human being even looks at your resumé.
Test, review and adjust your search terms based on the types of jobs you are receiving in your inbox. As you start to get a better feel for what employers are looking for, you can update your alerts to ensure that you know about every job that is available, and beat other applicants to the interview.
This article first appeared at Workface, the Career Academy for Bookkeepers and Office Admin Students
-- Did you like what you read? Want to receive these posts via email when they are published? Subscribe below.