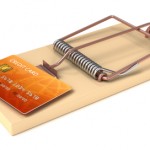 The 'Plan small business finances module' of our Small Business Management Course takes students through the steps to creating a financial plan for their small business. Many small businesses get loans and credit from banks and other finance institutions, but how wise is it to get into debt before the doors to your business are even open?
Is Credit the Best Way?
About 20 years ago, the only way businesses could make payments easily was to apply for a credit card from a bank. The bank would then give you an amount of credit, $5000 say, and the more you used it, the more credit you would be offered.
This is great if you have the means to pay it back immediately – and if you do actually pay it back immediately. However, if you're like most people, having access to large sums of money that can be paid back at a later date – in 30 days, 55 days, 3 months – can lead down a dangerous path for your small business.
Start-Up Finance
We spoke to one entrepreneur who had an idea to start a gourmet packaged meals business aimed at a demographic of busy professionals. He had planned to go the conventional route and borrow $200K to finance his start-up; even though at this point, he didn't have a single customer.
But there were plenty of other options available to get his business off the ground, rather than getting into debt before he even had his first customer. We suggested using another company's equipment, contracting the manufacture of the products to another company, or re-branding an already existing product.
The term used in the start-up community for using your own money is called bootstrapping. But it's one way to guarantee that you will do all the research and determine the most cost efficient way to run your business before outlaying substantial sums of money on equipment or other overheads.
***
With new technologies like cloud-based software and high-speed internet, many small business owners have been able to significantly reduce their overheads, which has enabled them to avoid starting their business in the red.
Business is about taking calculated risks for a reasonably predictable reward and it really all comes down to research and knowledge. Live with an asset mentality and don't get caught in the credit trap. You'll find out all the best financing options for your small business in our Small Business Management Course.