Breaking News & Updates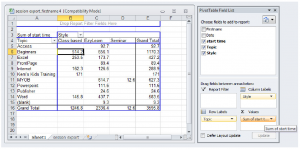 How do we know that most students want to start their MYOB training course at 12.30pm? We put all our course enrolment information into an Excel spreadsheet, inserted a pivot table and then filtered the data. Does that sound simple? Well it will be if you enrol into our online Microsoft Excel course.
The good news is that the video tutorial below will show you exactly what we did. If you are reading this blog as an email subscriber click on the heading to get to our blog site to watch the training video tutorial. If you want to receive these blogs posts via email, make sure you subscribe to our Employment and Productivity Training Blog.
The other good news is that when you enrol into our online Microsoft Excel Training Course you actually receive the data file that we used in this exercise so you can replicate it yourself! These figures are for enrolments into our MYOB course, Beginners, and Microsoft Office courses at our Dee Why training centre when we operated class-based training centres in Sydney.
Like all our online training courses, the Microsoft Excel training courses come with LIFETIME student access. The current course not only includes training videos, but nine training workbooks and over 40 exercise files that you can use to practice your Excel spreadsheeting skills.
-- Did you like what you read? Want to receive these posts via email when they are published? Subscribe below.