Breaking News & Updates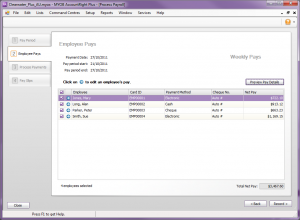 Did you know that you are required by law to provide a payslip to your employees no later than the day after payday?
We recently completed our new and revised MYOB Payroll online training course as part of our full suite of five online MYOB Training Courses (all available for one price and LIFETIME course access!) and one of the topics we cover is emailing Pay Slips (or payment advices) to employees. As part of the course we reference the FairWork Australia website which clearly states that every employer must ensure that an employee receives their pay slip no later than 1 day after being paid.
The site also goes on to explain more information about what should appear on a payment advice and they even provide some very detailed Microsoft Word templates for Pay Slips, Weekly time and wages records, employment details and leave records (very handy), roster template and time sheet. They are provide in a Microsoft Word format so you can customise them for your own business!
Need to learn Microsoft Word to modify documents? See our online Microsoft Word course outline.
If you are an existing EzyLearn online student you can see our 17 new training videos in the MYOB Payroll Training Course.
-- Did you like what you read? Want to receive these posts via email when they are published? Subscribe below.