Breaking News & Updates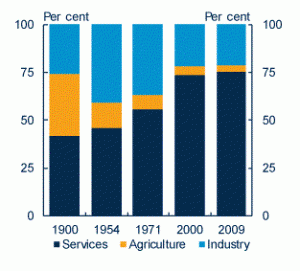 We were spilling through the recent federal budget information (as you would) and found some interesting facts that we wanted to share. We were actually looking for the new tax tables to explain more about how they work for our recently updated MYOB Payroll Course, but thought the information was enlightening. It's also another reason to learn how to use MYOB so you can perform bookkeeping tasks!
We found it relevant because our online MYOB and Excel training courses provide education and new skills for individuals to participate in the provision of services in Australia's knowledge based economy. Is all that jargon too much? It just means that more and more workers are being paid for using their brains and skills to perform tasks (like bookkeeping) and less on making or growing stuff.
You might also be reassured by our relatively low and constant unemployment rate.
And, just in case you weren't aware, our online MYOB training courses include
Training workbooks with exercises and
Knowledge review to test your skills
PLUS they come with LIFETIME student access so you can have access to new content as it is created for no extra cost.
-- Did you like what you read? Want to receive these posts via email when they are published? Subscribe below.