Breaking News & Updates
Where do you live? If you live on the east coast of Australia, there's a good chance the National Broadband Network (NBN) is already available in your area, and if you're not already connected, you should be. With high-speed internet piped straight into your home, completing one of our online MYOB courses or operating an home-based business that uses cloud accounting software like MYOB Account Right Live is a cinch.
The NBN will make it possible to share and upload files to online storage software like Dropbox and it will become commonplace to video conference with people locally and internationally. Further, slow download and upload times, or choppy video that stalls and jams will become a thing of the past.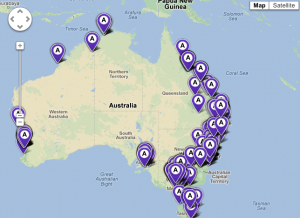 The Growth of the NBN
However, according to the NBN Co, in December 2012 it was estimated that there was already some 34,500 homes connected to the NBN — out of the 758,000 homes and businesses where the NBN was already available, mind you. This is means there's a great deal of Australians not connected to the NBN when they could be. The map on the right shows the areas of Australia where the NBN service is currently available. (You can find out more information on whether the NBN is available in your area by click on the map of visiting the NBN website.)
The advances in the education, business and even health industries, created by the NBN will be limitless. In the education space, particularly in the area of e-learning, online videos will become the delivery method of choice — and later, even live conferences between students and teacher. Though online video is being used more regularly than it was just five years ago, it's not being used to its full capacity. But the NBN will change all of that; so you can say goodbye to reading an endless scroll of text on a webpage or printed learning materials.
Opening up the Use of the Cloud
The NBN also gives small businesses the ability to streamline their processes and procedures — previously reserved for large organisations that could afford the cost to implement them — with cloud-based softwares that make working with people from different sites, sharing data and even storing data, quick, easy and (importantly) viable — which accounting software like MYOB is already doing.
***
So if you haven't done so already, find out if the NBN is available in your area (click on the map above to find out if your home can be connected to the NBN). If it turns out the NBN is available to your home the next step is simple: contact one of the NBN's preferred service providers (a list is available on their website) who can help you make the switch; from there, it's all systems go — you'll be connected to a world of possibilities.
-- Did you like what you read? Want to receive these posts via email when they are published? Subscribe below.