Breaking News & Updates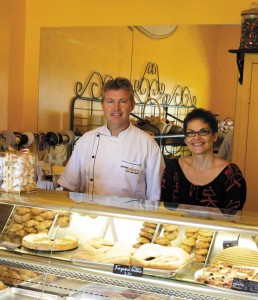 We recommend MYOB Account Right Live in all of our MYOB training courses — not because it's the latest version of the hugely popular MYOB software — but because it gives business owners the kind of data they need to run their business efficiently and securely.
We have previously blogged about how cloud accounting software now makes it so much easier for you to start a bookkeeping business from home; but it can also help existing business owners operate and grow their businesses.
Perhaps the biggest bonus with cloud accounting software is that you have access to information about your profits and expenses in real-time. This is enormously useful for small businesses to constantly track how they're going and make any necessary changes.
From a Break-Even Bakery — to Owning 2 Successful Stores
We decided to take a look at how one business owner grew a moderately successful business into a totally thriving one by using cloud accounting software to track their expenses.
**
Cheryl and her husband, Jim, operated a small neighbourhood bakery in a busy block of local shops. Jim was the baker and pastry chef in residence, while Cheryl, who had previously worked as an account executive at an advertising firm, managed the office side of the business.
"I was used to budgets and targets, so it made sense that I would handle the admin side of the business," Cheryl tells us. "But, coming from a large-scale ad agency, I had been spoilt for choice in the way of CRM and other software that tracked my sales in real-time," she says. "I didn't have any of that with the bakery. Just an outdated version of MYOB!"
Cheryl and Jim estimated that it would take them about a year before they would start to see any real traction with the bakery, but a year had come and gone, and they were still just breaking even.
"Jim would come in and go 'we had a great day today, heaps of customers' but at the end of the month we were still struggling with all the expenses, paying our staff and trying to pay ourselves a wage too," Cheryl says. "Finally I asked my accountant what was going on and he just said 'update your MYOB,'" she says.
Cheryl says that having access to data they had previously only received once it was too late was a game-changer. "This sounds funny, but I could see we were spending all this money on flour, but our sales didn't reflect a need for it," Cheryl laughs.
"Finally I asked my accountant what was going on and he just said 'update your MYOB,'" Cheryl says.
"I asked Jim if he was over-ordering because that seemed like the logical answer, but he said he only ordered what was needed," she says. "This led me to do some investigating."
What the Data Revealed
Jim would bake an average of 75 loaves of bread a day, but sales records in MYOB showed they old sold an average of 40 loaves a day; Jim was baking twice as much bread as he needed and all left-over stock was thrown out at the end of the day.
"We were literally throwing our money away," Cheryl says. "But it was a learning curve."
Before long Cheryl and Jim implemented various other systems to track their stock, so they could better manage their expenses. Within a year, Cheryl and Jim had completely turned their business around.
"Now we have two shops," Cheryl says. "Where before we struggled keeping just the one going. Being able to see what we were spending as we were spending it — that changed everything."
***
Don't run your business blind; use cloud accounting software, like MYOB Account Right Live, which allows you to see your accounts in real-time, safely and securely. Our MYOB training courses will get you up-to-speed with everything MYOB. Enrol today.
-- Did you like what you read? Want to receive these posts via email when they are published? Subscribe below.