Breaking News & Updates
As the mornings get colder, darker and less inviting, getting up to go to work is that much harder. But what if you didn't have to get up at the crack of dawn and commute into the office? What if you operated your own bookkeeping business from your home office? With cloud accounting software like MYOB Account Right Live — you can. (If you've never used MYOB Account Right Live before, our MYOB Training Course will help you get up-to-speed.)
The Rise of the Cloud
Although cloud computing has been around since the mid 2000s, its use had largely been limited to those companies with access to high-speed Internet; your average sole trader using cloud-based accounting software was rare, confined mainly to contract IT experts.
But as time went on, access to high-speed Internet connections increased — and will increase even more when the NBN rollout is complete — which made cloud computing more easily accessible for individuals working from home; even bookkeepers.
MYOB entered the cloud accounting space in 2012 with their MYOB Account Right Live software that still looks and feels the same as their hugely popular offline versions, but with the added benefit of using an online storage server.
Benefits for Bookkeepers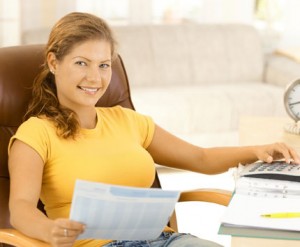 In moving their software online, MYOB's intention was to make bookkeeping easier for the business owner, but MYOB also made it easier for a bookkeeper to access their client's accounts. It also made operating a home-based bookkeeping business easier, too.
[quote]You'll be pleased to hear that our Small Business Management Training Course has a slant towards operating a business from home using the latest internet based services like Google, WordPress and more..[/quote]
For bookkeepers one benefit of having their client's accounts online is that they don't have to physically go to their client's place of work; instead, bookkeepers can login to their client's accounts from their own home or office.
The ability to work offline (known as "checking out") also means that if your Internet connection is down, you can still keep working as normal; once you connect to the Internet again, MYOB syncs the data with the version stored in the cloud.
***
For bookkeepers, cloud accounting software like MYOB Account Right Live makes operating a home-based bookkeeping business a more convenient career option — in more ways than one. Avoid cold mornings and the long commute; start a bookkeeping business.
-- Did you like what you read? Want to receive these posts via email when they are published? Subscribe below.