Breaking News & Updates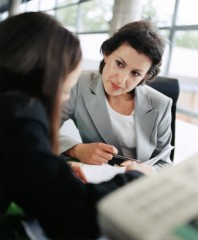 IF YOU'VE RECENTLY COMPLETED our MYOB course, or perhaps started your own bookkeeping business, or thinking about starting one, the word 'accountant' can sometimes make you feel a little nervous. Particularly if it's hurled at you in a sentence like: "I'm going to check that with my accountant!"
It is unfortunate, but many people aren't aware of the important function a bookkeeper can play in a business. Bookkeepers are often relegated to being "the accountant's poor cousin" (not dissimilar to the way nurses are seen in comparison to doctors); while for some people the only bookkeeper they've heard of hangs out at the dog track!
Don't Fear Your Accountant!
But the word 'accountant' really doesn't need to put the fear of God in you. The fact is a bookkeeper provides valuable services that many accountants simply can't; and nearly all accountants are more than grateful for the work bookkeepers do.
To work as a professional bookkeeper, you must show you are amply qualified in areas of Australian tax, payroll and sometimes, basic accounting. As it happens, there are many qualified accountants that work as bookkeepers — as is the case with bookkeeping firm, Build on Bookkeeping.
Since most business owners will find themselves an accountant first and a bookkeeper second, if you have a good working relationship with all of the accountants you deal with, they will more than likely refer clients on to you.
So if you can work well with your client's accountants — by getting your EOFY analysis done in time and the relevant reports to them quickly — you may find yourself a personal advocate for your business.
***
So don't live in fear of the accountant — embrace them. Read our tips on keeping the accountant happy come EOFY and you're well on your way to a prosperous working relationship with the accountants of all of your clients.
---
-- Did you like what you read? Want to receive these posts via email when they are published? Subscribe below.