Breaking News & Updates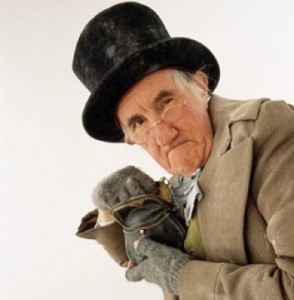 WITH CHRISTMAS AROUND THE CORNER, good ol' Scrooge deserves a mention. In the "Selling Your Products or Services" module of our EzyStartUp Course we cover how to determine the correct prices for your business; a decision many new business owners often don't realise requires quite a bit of research and planning.
Instead, many people fall into the trap of using their prices as a way to market their new business to potential customers, using the "cheap is best" mentality. Bah — wrong! That may be no better than a Scrooge…
Often cheap is not best, and you need to ask yourself whether those cheap prices you'll be offering are sustainable.
By that we mean, whether you'll earn enough to draw a wage that's commensurate with one you could earn as an employee elsewhere. If the answer is 'no', then you need to rethink your pricing structure before you start attracting clientele.
What Kinds of Customers Do You Want?
Because that's the other thing: the prices you set attract a certain kind of customer. Consider the kind of shopper you would typically find in a department store, like David Jones, with the kind of shopper you would find in Target. Both stores sell fairly similar products, but the prices are different — and, often, so is the customer (although with the amount of sales constantly happening, there's probably a significant overlap these days).
What a David Jones customer may be happy to pay for a new dress, for example, is likely to be different to what a Target shopper would be happy to pay for a similar item. Even if in this instance, the Target shopper learns that the dress from David Jones is superior in quality and worth the higher price tag (and they may well agree with you) it will probably change nothing: they will still shop at Target.
Low Can be a Loss
That's not to say cheap is bad. But there is sometimes a high-cost associated with cheap. Consider the price wars between Woolies and Coles over the cost of milk, which Coles reduced to $1 a litre first and saw Woolies quickly follow suit. But who's the real victor when you're selling milk for a dollar? Not Coles or Woolies, where the profit margins are between two and minus-three percent, and certainly not the farmers.
If setting low prices is your strategy for winning customers, it may pay more to think of another one, as cheap is easily replicated and not every business can sustain it. Start out how you mean to continue — if you don't always intend to offer bargain basement prices then don't offer them at all. Or at least, offer them in a way that makes it clear to potential customers that you don't intend to always charge those prices.
***
One thing is certain: there's a lot to weigh up in setting prices for your new business, which is why we consider the Selling Your Products or Services module of our EzyStartUp Course such an invaluable one. If you're starting a new business, don't sell yourself short. Make sure the price for your services is right, rather than just cheap.
---
-- Did you like what you read? Want to receive these posts via email when they are published? Subscribe below.