Breaking News & Updates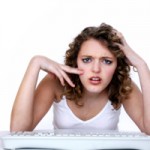 In our Small Business Management course, we discuss creating a website for your business — and at EzyLean, we even offer a training course on creating a website using WordPress. We've also talked about some of the website "must haves" on this very blog, but one of the things many business owners still get wrong is communicating what exactly their business does.
What Does Your Business Actually Do?
Being able to explain your business in one sentence or less should be like second nature to any business owner, yet I can't tell you how many times I've been on a business's website and found myself wondering, "What the hell does this business actually do?"
It seems that somewhere, in the midst of worry about design, functionality, load times, conversion rates, and so on, many business owners — large and small; this affliction is not discerning — forget to answer the most basic of questions and often the fundamental reason a person is on their website: What does my business do?
Take a look at your website. Does it clearly state in one sentence or less what your business does? If we use EzyLearn as an example, we could say, EzyLearn is an online training provider. We could even take it one step further and say, EzyLearn is Australia's largest provider of online training courses, including MYOB, WordPress and Excel.
Both examples are clear, concise and, above all, they entice visitors to spend time on our website. This is important, because if you leave visitors wondering what your business does and whether you offer the services they're looking for, they'll give up and go elsewhere.
Your Business Plan's Executive Summary
This is where the executive summary of your business plan comes into play. The executive summary of your business plan is used to explain what your proposed business will do; in no more than a paragraph you need to be able to convince the reader that your business idea is worthy of their funding, participation or whatever it is you're seeking of them.
In essence, your executive summary is your elevator pitch. You need to refine this and whittle it down to a short, pithy explanation of your business and your services. Practice on friends and family if you have to and once you've got it, put it straight onto your homepage, or an easy-to-access "About Us" page.
***
And remember: the thing about the Internet is that it's great if you know what you're looking for; but the majority of people don't. Always craft your copy like you're communicating with someone who doesn't know the first thing about your business or the industry, then go from there.
-- Did you like what you read? Want to receive these posts via email when they are published? Subscribe below.