Breaking News & Updates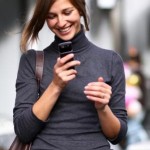 No doubt about it, one of the biggest hurdles you face as a small business owner is managing your cash flow. A big part of this is ensuring your clients and customers pay your invoices on time.
Setting up email alerts to remind customers when your invoices are due is a great way to ensure you're never – or at least, rarely – paid late, which we've written about on this blog and even cover in our MYOB training courses.
Invoice From the Road
Most account programs like MYOB AccountRight Live offer this facility, as does Reach Accounting, Xero, and so on. They also have their own app, allowing you to create and send invoices right from your smartphone, so you can invoice customers right away, even when you're not at your computer.
MYOB's PayDirect service, for which an app is available from the Apple App Store and Google Play, goes one step further. By purchasing a credit card reader from MYOB, you can accept credit card payments from your phone, just by pairing the reader with your smart phone or tablet device using Bluetooth.
Again, this is a fantastic function for tradies, who either have to wait for their clients to transfer the funds to their account or enter into a contract with a bank so they can offer mobile eftpos facilities. Now, for just the cost of the reader, small business owners can offer this facility to their clients, and it's also linked with their MYOB account.
Even More Options for Small Businesses
MYOB's new PayDirect facility competes not only with the big banks, but it's also competing with PayPal, which offers a similar service called PayPal Here. There's very little difference between the two services. The main, fairly negligible, difference is in pricing structure and additional functionality, so deciding between each service comes down to what fits your business best – do you integrate your PayPal facilities with a PayPal Here account, or do you integrate your MYOB accounting software with an MYOB PayDirect account?
Ultimately, though, they're both great facilities that enable to small business owner – whether you're a tradesman, a small retail shop, an online retailer who has a market stall, or even an independent contractor who'd like to have the ability to take credit card payments – to get paid faster.
***
The quicker you're paid, the better it is for your cash flow. Maintaining good cash flow is vital to the success of your business; it allows you to pay your suppliers on time, and keep on top of your other outgoings. Maintain good cash flow, by ensuring you make it as easy as possible for your customers to pay you. Offering a number of different payment facilities is one way of doing that.
-- Did you like what you read? Want to receive these posts via email when they are published? Subscribe below.