Breaking News & Updates
Telstra likes the Internet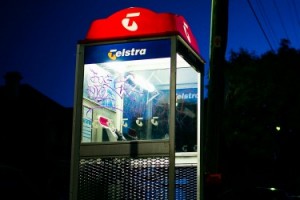 If you're like me, then the only reason you still have an account with Telstra is because you need the phone line for your broadband Internet connection. I replaced my Telstra 'wired line' with a VoIP service years ago, which I still use to this day as my business phone, though my mobile picks up most of the slack being that I'm often out and about.
For years, I've wondered about the future of Telstra. As more companies entered the telco space and then the ISP space, Telstra seemed to becoming less and less relevant. Funnily enough, just the other day someone asked me if I knew where the nearest payphone was and, for the life of me, I couldn't think of one. It turned out, there was one just a few metres away.
Telstra offers Wi-Fi hotspots to 7.5 million smartphone users
It seems that perhaps Telstra had been thinking the same thing, because this week they've launched free Wi-Fi hotspots in payphones right across Australia. I thought this was a pretty genius move, given some 11.9 million Australians own smartphones and, of those, 7.5 million are accessing the Internet from them. Now there's a reason for people to head to those little orange and blue phoneboxes again – only now they're kitted out with a pink cube on top and a white Wi-Fi logo.
Of course, there's a catch: the Wi-Fi isn't really free. If you're a Telstra home broadband customer, then any 'free' Wi-Fi you use at a Telstra hotspot counts towards your overall monthly broadband allowance, while non-Telstra customers will have to pay for a guest pass to access the network. Telstra will still make money, just as they did through their payphones until everyone started using mobile phones.
Telstra's marvelous act of reinvention
Catches aside, though, using phoneboxes to offer Wi-Fi is a marvelous act of reinvention. Developing new concepts – or putting a twist on an old concept, at least – is something we cover in our Small Business Management Course, because it's something every business owner will need to consider at some point during the life of their business.
Indeed, EzyLearn might not be offering training courses at all if I hadn't done a similar thing a few years ago when I realised face-to-face learning was becoming a thing of the past. When we eventually closed out training centres that could have been the end of my business had I not made the decision to move our content online.
Every business should pull a Telstra
Keeping up with trends and making changes to your business model is what makes a business successful and gives it longevity. Though it doesn't necessarily have to be something as radical as Telstra's free Wi-Fi approach. It could be something simpler, like streamlining your business processes and taking advantage of cloud apps, as Rohan Calvert from Men in White has, for example.
Even though I probably wouldn't use Telstra's Wi-Fi unless I was in a real bind – perhaps when I'm on holidays and in need of an Internet connection, but I don't want to use too much of mobile data allowance – I do think it's a great idea. What do you think?
-- Did you like what you read? Want to receive these posts via email when they are published? Subscribe below.