Breaking News & Updates
MYOB AccountRight Live OR in the Cloud?

We were asked by one of our MYOB course students recently how you can manage user access to your MYOB accounting file and we did some looking around, spoke to our MYOB course creator and came up with the following useful information.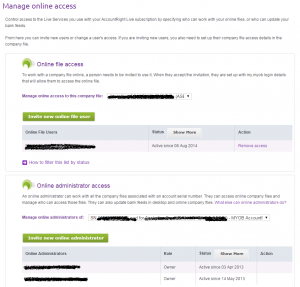 You can go to the MYOB website and click on my.MYOB to get to the details of your "participation" with MYOB AccountRight –
[quote]sorry, NERD ALERT! I happened to be reading the MYOB Terms of Service and "Participate" is the term that the MYOB legal team use to describe how companies use the MYOB AccountRight service -[/quote]
which enables you to choose your administrators as well as who you want to be able to access your file (like your bookkeeper or accountant). But you can also manage users from within the software. Note the out of place word here? – Software – Yes, when you launch the software and Open your Online data file, you can setup users and be much more prescriptive as to what they can access or not, but also which areas they have read only access as opposed to full access (read and write).
MYOB AccountRight User Access Managed in the Software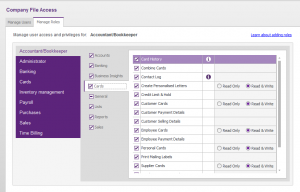 The silly part of this is we would expect cloud-based software to enable you to do everything in the cloud! If you look at the current MYOB model for their AccountRight Live product you still need to download the software to use it and you still need to update the company file if you update the software version!? We thought that this day had passed when the concept of cloud based accounting arrived.
Is it Designed to Help Current MYOB Users?
When I look at the way that MYOB AccountRight Live is managed at first it looks like it was built for people who are used to having a software program on their computer. Then when you see the capability to Open company data files that are stored "Online" you get the feeling that it would be just as easy to use Dropbox to store your datafile. The worst news comes when you expect the MYOB AccountRight Live software (that has a little cloud around the live) to work just like other cloud-based account programs like SAASU, QuickBooks Online and Xero you get dissappointed in having to install and use software on every computer you use – and I haven't even tested to see if they have a program for the iPad.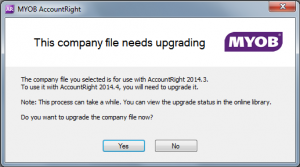 If you are the kind of person that loves storing a local version of your datafile (and take the risks of protecting your own computer against, viruses, crashes or other corruption) this might seem like a good feature. I bet we see this product evolve until the point where it is finally an all online accounting solution.
How to change User Access Rights using MYOB Account Right Live
Although you can make some rudimentary changes via my.myob.com the best way to add users and make specific choices about what they can see as well as what they can edit and see, you need to launch the software (make sure you've downloaded it of course) and then go to Setup, User Access.
We used a current version of AccountRight Live Basics to perform our tests and any new content we create and publish for our MYOB Training Courses are available to existing students – whether you are on a 12 month course access program or LIFETIME course access. Feel free to enquire with us if you have any questions about our online MYOB Training Courses, or enrol today, start by 5pm tomorrow and be comforted by a 30 day money back guarantee.
-- Did you like what you read? Want to receive these posts via email when they are published? Subscribe below.