Breaking News & Updates
Time to Reflect, Thank and Plan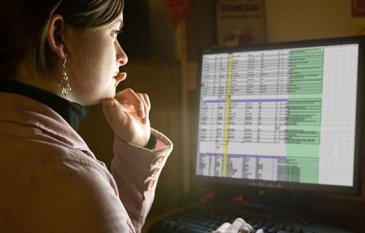 We had our office Christmas party (for our Sydney team) this week and I went through and individually thanked each of my team for their contribution during the year. I'm very lucky to be working with a great bunch of people – although, you know what they say:"The harder I work the luckier I get" – and I used our Christmas lunch to thank each of them publicly (in front of their peers) for their efforts because I think it's important.
We started a lot of diverse and interesting projects during the year and they include:
Assembling a course to teach people how to create their own course – ideal for sites that want to create their own online Inductions for contractors,
Worked with the Australian Small Business Centre to create new sales and marketing courses for their Business Management Course.
Created a MYOB Bookkeeper Directory to help our students start their own bookkeeping business and find new clients
Established the StartUp Academy to help ordinary people start their own business working from home
Treat Yourself as you Plan for Success in 2015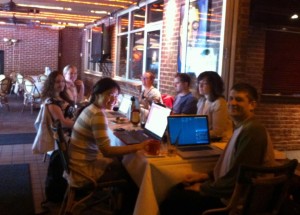 One of our team members said she's going on holidays and really needs the time off because she will be studying VERY hard next year. She'll have 5 weeks off and she's 21. I started to wonder if I am a workaholic, am a little twisted in my opinion of what makes a good holiday or that I just love what I am doing, but I offered to give her work to do while she was on holidays overseas for that long period of time – after all, isn't it great to earn some money working from your computer, using the internet for a couple hours each day and then getting into the festivities!?
I was thinking about my ideal holiday – work a couple hours every morning (early if possible so no one is awake to distract me), then feel rewarded and REALLY enjoy the rest of the day and night. It gives me the feeling of still being connected to the world at home, while achieving something workwise and then cutting off completely from work for the rest of the day.
When I think about the festive season and the quiet time between Christmas and when most people come back to work (5th January 2015 or later) I see an opportunity to stay in Sydney where it almost becomes a pleasure to drive on the roads and spend the time in thought and contemplation to plan for the coming year. It's usually the time when I write down my major goals for the coming year and start to clearly define them, how they'll look and operate and what is needed to achieve them. It's the time when I end up getting on my computer and powering up Microsoft Excel to do those once a year checks on the past and forecasts for the future.
Microsoft Excel Course for Financial Forecasting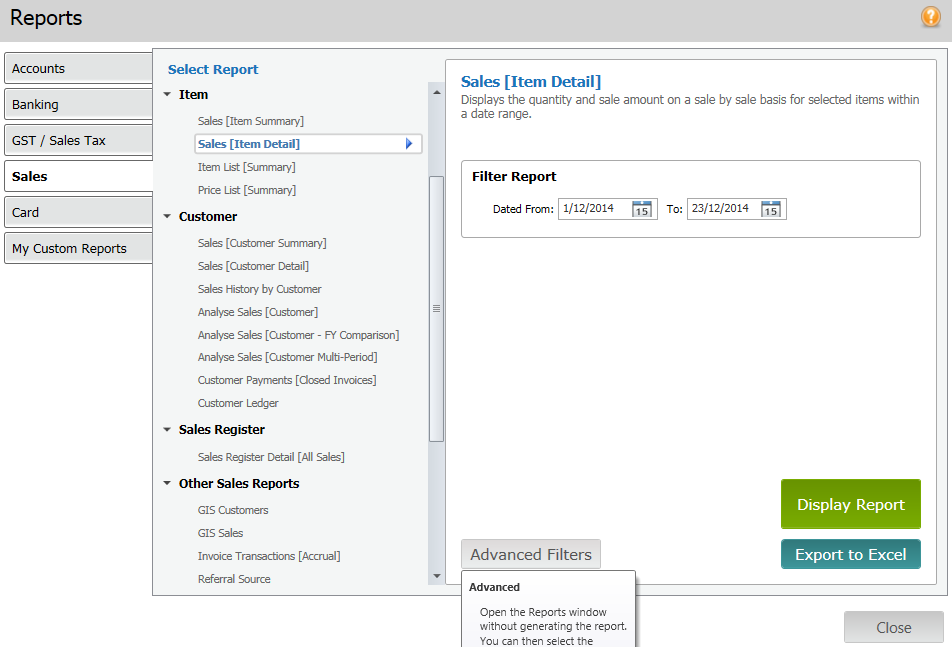 Forecasts are those interesting things that investments are based on. Someone with a spreadsheet and a business plan will guess how much they'll earn in the forthcoming year/quarter/month etc and back it up with all their evidence in the business plan. To many people it's a waste of time because "who can really predict the future", but to those people who do it it's a way of crystalising your plans into monthly or quarterly objectives that are based on the past (in most cases) and on intelligent estimates of what the market needs.
Export Your MYOB Reports
If you already use MYOB Accounting Software to manage your bookkeeping and accounts you can easily export a report about last periods sales and use that as a basis for next years forecasts. Many slight changes can result in more sales and higher profits in 2015, including:
new products,
expanded services or
price increases
But your decision to no longer provide 30 days credit terms or be more diligent with late payers can help you earn your money twice as fast. Either way you do it, now is a great time to export that data from MYOB, or Xero or Quickbooks and get it into a spreadsheet (worksheet) so you can start to do some mathematics to show how much more you'll earn in 2015.
Online Microsoft Excel Training Courses
If you've followed our blog posts you'd know that we have a very popular MYOB training course. I wanted you to know that we have a popular Excel Training Course too and it comes with the same benefits as most of our online courses:
12 months or LIFETIME Excel Course access
Assessment and Certificate Option
Includes 9 skill levels from Excel Beginners to Advanced
Includes exercise files to practice
Includes multiple version of the Microsoft Excel Software
Each of the 9 courses includes an Excel Training Workbook with step-by-step exercises
Comes with a 30 day money back guarantee
-- Did you like what you read? Want to receive these posts via email when they are published? Subscribe below.