Breaking News & Updates
I wrote about the Bookkeeping Academy membership a couple weeks ago and how it's our aim to help our students get discovered for bookkeeping work after they complete their course.
Gina has 10 years experience in every aspect of operating and managing a tourist and caravan park in her home state of Tasmania and she loved the bookkeeping side of the work so much she wants to do it for other businesses.
She learnt how to use Xero and loves how it means she can do the work from anywhere – even Zeehan in Tasmania's west.
Office Admin & Business Admin now includes Marketing
I looked through Gina's resume and it confirmed an observation I made a couple years ago how the job description of an office administrations person now involves a lot more social media and digital marketing.
Gina lives in a remote part of Tasmania now, near Cradle Mountain but her skills using online programs like Xero give her the ability to work from anywhere.
If she really needs to see a client she makes the trip to their office, has a meeting and then goes back home to perform her work.
Knowing how to use Xero confidently is a great skill to have because Xero touches every part of a business and being one of the first accounting programs to adopt a 100% online strategy means that thousands of other apps and integrations connect with it. See what is included in the COMPLETE Xero Training Course Package.
The way to stand out from other bookkeepers these days is to specialise in bookkeeping niches like these:
These training courses are included with your membership of the Bookkeeping Academy and provide you with 12 hours of Continuing Professional Development points if you need them.
Getting Discovered for Bookkeeping
Search for Xero bookkeeper Tasmania and you'll already start to see search results in Google that relate to her online listing at National Bookkeeping.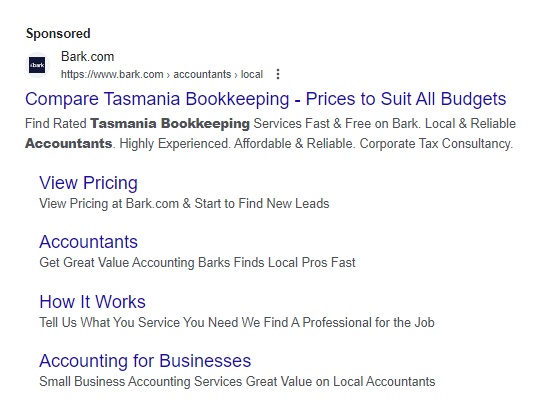 The biggest Google Ad on that page is for Bark and it still amazes me how much money they make from service providers who could probably do better for themselves and their own brand if they created their own website and learnt how to use Google Ads.
We interviewed Jo-Anne (a Registered BAS Agent from Keysborough VIC) and she revealed that she spent thousands of dollars with Bark.com when she first started her bookkeeping business. Jo-Anne puts it all down to a learning curve that you go through in business but she doesn't use them any more.
Even if you don't use Google Ads there are plenty of other free Google tools that you can use to get discovered by the Google Search Engine.
In fact I did a digital marketing presentation at a local networking event in Newcastle where I revealed some of the secrets that we use to get discovered on Google without having to pay money for Google Ads!
Virtual Assistant for Office Admin, Bookkeeping & Marketing
Gina is located on the west coast of Tasmania but it's a pretty small state so getting around is easy if she needs to meet someone face to face. Gina has such a wide range of skills she can run an office for a small company and manage most of the tasks they need without even going to their office.
Even our own team work from their own homes and I only meet them once a year or even less! If you've been a student for a while you might recall speaking with Jacci. I wrote about EzyLearn ANSWERS and mentioned Jacci Quinlivan back in 2016. Jacci is an assistant accountant and registered BAS agent and helped create some of our training materials as well as offered support to new students. I worked with Jacci for nearly 6 years but never met her face to face until I brought her onto our admin team when I was running EzyAccess!
Join the Bookkeeping Academy
The Bookkeeping Academy is designed for office and business admin staff who want to continuously improve their software skills. For business owners and managers it is a great way to broaden your knowledge about software that can help your business while also getting some training and support to help you implement these software programs. There's even some digital marketing training included.

For bookkeepers and accountants it's a way to get exposure online, just like Gina has, and some local awareness marketing to get discovered by local small businesses who are looking for a bookkeeping specialist.
-- Did you like what you read? Want to receive these posts via email when they are published? Subscribe below.