Breaking News & Updates
Amelia and her husband run a landscape construction business in Melbournes Eastern suburbs called Whitaker Landscape Constructions. She enrolled into a Xero Training Course with EzyLearn while doing a Cert IV in Bookkeeping and Accounting at Chisholm because she wanted more practical skills using accounting software.
What she discovered was how detailed and in-depth EzyLearn training courses and workbooks really are. OK, that's enough of the boasting – here are some things Amelia said she likes about using Xero in her husband's business.
Steve can see what is owing & what's overdue on the go without having to call Amelia
The thing that Amelia liked the most is that she can show her husband how to do some simple things on his phone or tablet while he is out working on site. He uses Xero to do quotes and invoices and capture receipts using Hubdoc while she does the bookkeeping work back at their home office.
These tasks are all covered in the Certificate in Xero Beginners Course 512.
Xero allows him access wherever he is. He can also see what is owing & what's overdue on the go without having to call me.

Amelia Whitaker
When it comes time for invoicing and following up on payments (We have a detailed credit management course if you need one), Amelia likes the little touches such as seeing if a customer has "viewed" their invoice. It means that she might need to jog their memory with a call or text message to make sure they have received it and acknowledge that the money is owed.
The fact that both of them have access and visibility to the accounts means that there is no "lag" in communications if someone has to wait for information from the other person.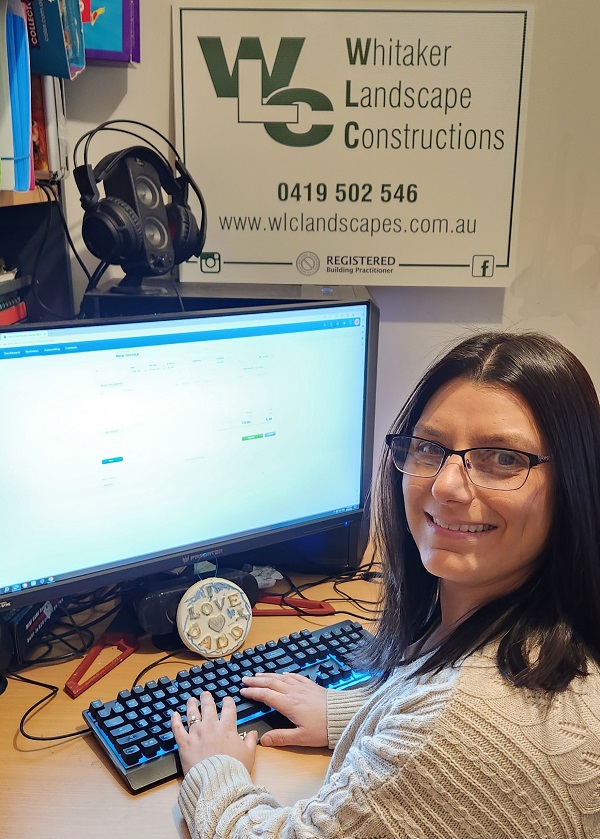 Benefits of using Whitaker Landscape Constructions
During my conversation with Amelia I learnt a few features and benefits that their business offers their clients. Our conversation turned to marketing and which digital marketing methods they use to find clients – she mentioned that she keeps herself busy with the marketing and promotion of the business.
She reminded me of Christina from Glenmore Park in Sydney who is very busy earning money for her family!
Amelia then mentioned that her husband will only take on one project at a time I didn't think too much about it until I related that "feature" to the benefits. It seems like a great "feature" but then I realised just how many benefits come from it, including:
The job will get done quicker
Less waiting while no one is on the job
Less communication issues because any issues can be addressed with Steve when he is on site every day
No issues trying to keep track of expenses for each project
Design questions can be discussed and implemented as they occur
If you can think of any other benefits, please list them down here!
__________
__________
__________
Now, I'm going to push the boundary a bit because that's what marketing people do. These are also some benefits: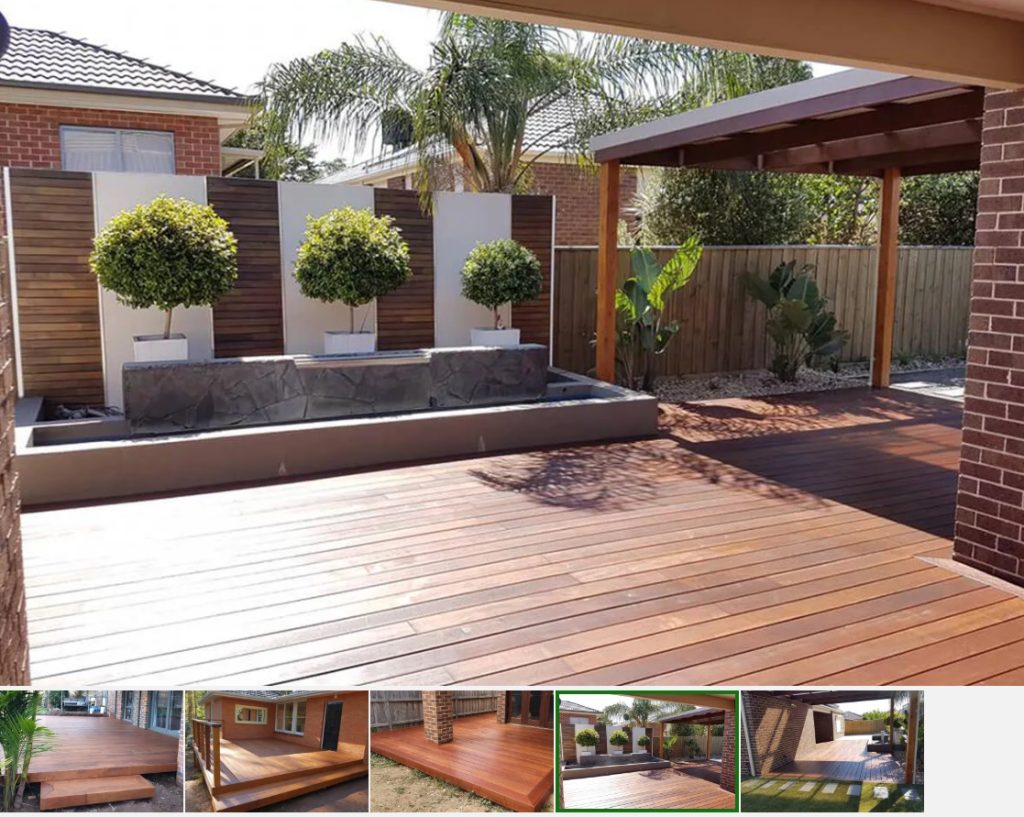 The client will sleep better at night knowing the job will be completed faster
There will be less safety risk with dirt, fittings, tools etc
The clients wife (or husband) will be able to boast about how quickly the build is coming along
The client can start planning an event in their newly upgrade backyard
The client can take advantage of current sales to buy furniture for their new deck
The benefits also relate to reason the client wanted the work done in the first place!
Amelia always like to send their customers a statement at the end of each project to show them exactly what work was done and when they made their progress payments. I think that is a nice way showing all the work that has been done and it matches the quote for work they originally set out to do.
Xero is so user friendly that Steve even accesses Xero whilst away on holidays.

Amelia Whitaker
Go and check out their website and make sure you contact them if you need landscaping construction work done.
How Features and Benefits Relate to Marketing
In an attempt to better explain how detailed our training materials are and how thorough the practical tasks are I have taken a closer look at the relationship between features and benefits and when to use them in your marketing.
This is the list of benefits that I came up with. Let me know what you think?
You have a learning reference for life
Step-by-step break down of every business transactions
Free refreshers whenever you need within 12 months
Learn at your own pace
Reach out when you get stuck
Watch how to perform tasks from an experienced instructor
Repeat the Instructor videos as often as you want
Learn in your own time
It's like working for a hairdresser, electrical business and cafe because of our case studies
Understand tricky transactions
Get a higher paying job
Be able to work from home
Save money on petrol
work more flexible hours
Choose your own clients (employer)
Save on car wear and tear
Reduce your parking costs
Save money buying lunch out
Get a wider range of accounting skills
Increased confidence talking about bookkeeping with employers
Increase confidence applying for jobs
Better understanding of the differences between MYOB, Xero and QuickBooks
Get Certified
Get discovered online by employers
We design our courses to take students on a learning journey where they use practical tasks to learn about bookkeeping as well as how to use MYOB & Xero to perform bookkeeping tasks.
-- Did you like what you read? Want to receive these posts via email when they are published? Subscribe below.