Breaking News & Updates
Is MYOB Just Another Program In Your Control Panel?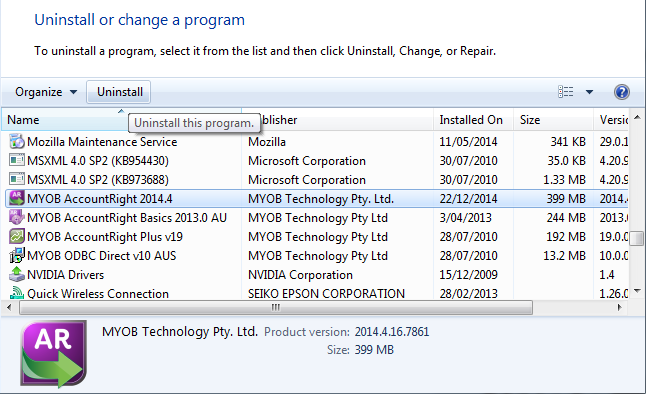 I was cleaning up my computer this morning and went to my Microsoft Windows Control Panel to discover MYOB Accounting Software sitting in the program list. I was removing any programs that I may have installed to test or get to know with a goal of REMOVING all that I didn't need, when I saw MYOB software in the list.
I didn't see WordPress and I didn't see Commonwealth Bank Internet Banking in the list and at that moment I felt a little sad, realising that if I changed computers that I would need to go through the program installation process with my accounting software AND that EVERY person who needed to access our bookkeeping software would have to go through the same process.
Cloud Software Doesn't Need to be Installed On Your Computer
I'm used to going to websites, logging in to do my work and then logging out at the end. Yes, with some I have to change the password regularly and others there is 2 level authentication using a mobile phone number as well, but the great thing about these "cloud-based" services is that I don't even need my own computer! I can log in using an iPad, laptop or even my smart phone.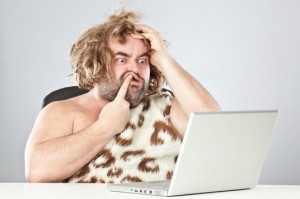 With services like Google Apps, we can run our entire company "server" in the cloud and have experts make sure it is up and running all the time for the cost of less than $100 per month, compared to several thousand dollars to buy the hardware (and have the floor space, data, power and air conditioning) , thousands of dollars in software licences and then having to hire an expert IT service person to manage it all for thousands of dollars per year – particularly if something goes wrong.
I've always wondered why MYOB didn't focus all of their efforts on building a fully featured accounting program for the cloud only and wrote about how it seems like MYOB is computer based accounting program with the functionality of Dropbox. Some people think it's more secure or safe to keep your accounting information local, but I'm not convinced.
How does MYOB compare to Xero and Quickbooks Online
I recently wrote about Ken from Love My Home Theatre and why he loves Xero Accounting Software (not Zero) and also about how the new market for cloud accounting software is not only introducing new competitors like Xero, but also enabling MASSIVE competitors like QUICKBOOKS back into the Australian market for accounting software once again.
If you are a regular reader you'd also know that we've had Xero Training Courses for quite a while now and that our focus is to help people looking for bookkeeping work AND small business owners learn bookkeeping software to help them run their business more efficiently and be compliant with the ATO.
The most impressive features of Xero Accounting Software are:
Xero can be accessed from anywhere at any time
Xero can accommodate multiple users (accountant, bookkeeper, business owner) no matter where they are located (which is great for virtual assistants doing bookkeeping from their own home)
Xero integrates with other cloud software programs (watch the video interview about Xero accounting with a small business that love it)
The best thing about cloud based software services (apart from having experts making sure it is always up and running) is that when new features are built they are available to you immediately. Xero recently announced the capability to create quotes and manage inventory which brings it even closer "feature wise" with MYOB and although I haven't had a chance to see it in action, Margaret Carey (who contributed to our XERO vs MYOB feature comparison) notes that:
[quote]Any business that requires more than basic tracking will need to continue to look at the add on solutions such as Unleashed or Dear but it is a promising start.[/quote]
Xero is Definitely Becoming More Popular
Whether Xero has just done some great marketing this year, or that people genuinely want the benefits of a cloud-based accounting program, we are experiencing increased enrolments into our Xero Training Courses.
It could also be because all of our Xero courses are included for the one low price – we don't sell them separately AND we include new content during a students membership period.
We use all of the major cloud-based accounting programs and I can say personally that I like what I have seen with Xero and Quickbooks Online. The fact that you don't have to go through that labourious process of downloading, installing and registering your software (for each user) is a great bonus, but the fact that you can use these programs from any computer is even better.
Stay Tuned for QuickBooks Online Training Courses
This year will become a very interesting year as online accounting software companies fight for your business as well as loyalty from bookkeepers and accountants. I can reveal that we have started writing the content for our soon to be launched Quickbooks Training Courses! Jacci, our Register BAS Agent is working to replicate the small business accounting processes we use in our MYOB and Xero courses to teach students how to manage business accounts using Quickbooks Online.
If you want to receive updates and launch information about this course please visit our Quickbooks Online Training Course page.
Is there a wave of innovation in online accounting from Canada?
Would you like to hear about MORE innovation in accounting? Want to learn about a cloud-based accounting program that boasts more than twice as many users as Xero?
I was speaking with an insurance agent who is contributing to the risk management components of our Small Business Management course and he was telling me about this great accounting software that is completely free unless you use their merchant services and/or payroll. I haven't confirmed any of these features of the software, but a quick visit to their website shows an interface that looks very much like Quickbooks Online with the navigation panel on the left of the screen.
My insurance agent friend Ruben is sharing information with us about how Workcover works for small business owners as well as public and product liability. He'll also share with us how these relate to contractors who might work for you and go to perform work at a customers site.
If you decide you'd like to take a look at Wave Accounting or you are already a customer of this accounting program please share your opinions with us at our Facebook page.
-- Did you like what you read? Want to receive these posts via email when they are published? Subscribe below.