Breaking News & Updates
Networking Event Tasks: Step 1 – Let people like you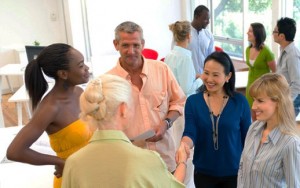 Whether you're starting a new business or hoping to expand your existing one, networking can be your life support. Successful networking helps you to find and connect with like-minded individuals, with whom you can share your experiences as a new (or established) business owner, and gain valuable insights on the ways you can grow and develop your own business.
I've written about networking before, because I think it's something every business owner should engage in regularly to complement their current marketing strategies. Networking with other business owners not only gives you access to a great brains trust to provide you with tips and advice, but it's also a great opportunity to use referral marketing to grow your business.
What is networking exactly?
Many people think networking events and groups are places people go to sell their products or services to other attendees, but that's not actually what a networking group or event are about at all.
[quote]The true definition of networking is 'the process of interacting with others to exchange information and develop professional or social contacts'.[/quote]
That being said, as a business owner, you should always look for new or potential business opportunities in everything you do. This is how you can help to grow and expand your business. But, where discussing your business might not always be appropriate in typical social settings, at a networking group it's more than welcome; it's encouraged.
Networking is a balancing act of meeting people and being social, while also looking for opportunities that will help take your business to the next level. To achieve this balance and make meaningful connections with other business owners that will prove beneficial to your business requires planning beforehand.
How can networking help your business?
If you run a home-based business, it's not uncommon to find that you can go entire days and weeks without interacting with another person on a professional level. This lack of interaction is not only isolating, but it can prove detrimental to your productivity and the continued growth of your business.
Your business needs new, fresh ideas and perspectives to thrive, and networking groups and events can help to connect you with people who can provide you with those ideas. They also give you the opportunity to do the same for other business owners, which is what makes the arrangement so mutually beneficial.
Take the following real-life example, for instance:
A home-based bookkeeper was looking for advice about her website and how she could increase her search engine rankings and traffic to her website. She'd previously enlisted the help of SEO experts and web developers and funnelled a lot of money into her website, but she felt it still wasn't performing well – it wasn't mobile, for instance, and she felt the copy could read better. The bookkeeper decided to go to a networking group of small business owners who were meeting to discuss online marketing, in the hope that someone might have some advice for her or could refer someone who could help. There she met another small business owner, who operated a content marketing agency and who advised her on how to increase her web presence by blogging, creating shareable content, and optimising her Google My Business page; the agency also had an in-house web designer and developer. The bookkeeper was so impressed with the content marketing advice she received, particularly the tips on Google My Business, that she hired the content marketing agency to manage all of her content marketing, including updating her website so it was mobile; they, in turn, referred a number of fairly big clients to the bookkeeper.
Five ways to succeed at networking
The key takeaway from the above example was that the bookkeeper went to a particular networking group with a goal in mind: to solve her online marketing issues. She was seeking qualified advice from other business owners who could empathise with her situation and perhaps recommend a course of action or someone qualified to help. She received both. At the networking group, she met a person who was willing to give her advice that she could implement at herself. Because she'd received useful advice before that worked, she felt safe in her decision to trust the agency to manage all of her content marketing.
So what are the five main things you can do to ensure the next networking group or event you attend is successful? Well, it starts with goal setting.
Network with a purpose:
Like our bookkeeper in the example above, you need to determine what your needs are and why you're going to a networking group or event, in the first place. If it's to find advice on how to improve your web presence, select networking groups with a focus on operating a business in the online world; if it's merely to share the experience of operating a small business with other business owners in your local community, choose one in your area with that focus.
Research:
Now that you've established your networking goals, it's time to find the networking group or event that will deliver them. Check out the attendees and members of some networking events or groups to see which ones are most suited to your business and your networking goals. Once you've identified some people you think are worth pursuing at a glance, research them online. Check our their LinkedIn profile, website and other social media. This'll not only help you to further refine your list of people to connect with at each networking group, but it'll also help you to find some common interests to discuss with them when you do meet.
Brainstorm some questions:
Before you attend any networking event, think of some questions that you'd like to ask the group or any individual member. It may seem like a waste of time, but it will help to ensure that, even if the other attendees are unprepared, at least you're going to come away one step closer to reach the goals you set out for your business in the first place. Having targeted questions also helps to show the other attendees that you're interested and engaged, rather than just there to kill time.
Establish your presence:
Show the group that you're somebody worth knowing and that your contribution to the group is as valuable as everyone else's. It's worthwhile remembering that some groups only allow one member from one profession only, to ensure there's meaningful business opportunities for everyone attending, so you need to show that you're worthwhile keeping around on a regular basis. Listen, be attentive, show you're there to help other's problem-solve just as you are there to problem-solve for yourself. Always be willing to share and contribute ideas, but know when to back off so as not to be the guy who hogs the conversation and makes the group all about him.
Establish connections and follow-up:
Don't just hand out and collect business cards willy-nilly. Your goal should be to establish a real connection with people that you'd like to add to your professional network of contacts and, in turn, be that person to them too. Exchange business cards, email addresses or other contact information and try to make a plan to meet-up outside of the networking group. After each event or meet-up, follow-up with each person you've exchanged details with. It's probably taking to too far to call, unless you've made an arrangement to meet already, but otherwise sending an email or connecting on social media like LinkedIn is a good place to start.
Follow these five steps each time you attend a networking group or event, and you're unlikely to go wrong. If you'd like to read more about networking and how you can make it work for your business, continue reading our blog. Otherwise, it's time to get out there!
-- Did you like what you read? Want to receive these posts via email when they are published? Subscribe below.