Breaking News & Updates
Get Your Free Microsoft Word Training Workbook Now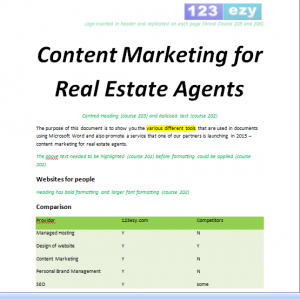 We've been hard at work on our Microsoft Word courses in readiness for the launch of our 2016 Microsoft Word courses and I'm happy to let you know that we are offering the first of our Microsoft Word Course Workbooks to you for free. It's the 201 Course workbook and it includes exercise files that explain all of the different types of tools available in Microsoft Word.
Interested? Register Now for the Microosft Word Beginners Workbook and Exercise Files
Microsoft Word Exercise Files
The image in this blog is of one of the exercise files we've created that has loads of different Word formatting, including:
Font formatting (colour, size)
Paragraph Formatting (alignment, spacing)
Heading Styles
Headers and Footers
Images and Graphics
Tabs
Background shading formatting
Inserting hyperlinks
much more..
Sales Letters, Proposals and more
The "Content Marketing for Real Estate Agents" exercise file included with the free Microsoft Word workbook is one of dozens of files we include in our MS Word Courses and as a Microsoft Word student you'll also get access to new training content we're including Sales Letters and Proposals.
The exercises in all of our courses and the object for every course is to use software for practical purposes in every business. The Sales Letters and Proposals exercise files we're working on combine software skills with marketing strategies we go through in our Small Business Marketing Course. Not only will you learn strategies to grow your business by increase your customer base and enhancing your product service offering, you get to create your own marketing materials using Microsoft Word.
Register for the free workbook
-- Did you like what you read? Want to receive these posts via email when they are published? Subscribe below.