Breaking News & Updates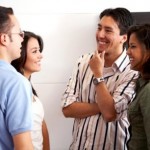 Marketing and referrals are essential components of any successful business. We cover marketing in the Marketing Action Plan and Undertake Marketing Activities of our Small Business Management Course, where we talk about the ways you can market your business to get those first few customers.
Referral marketing is a great way to gain new customers, and involves encouraging your existing client base to promote your business and its services.
A lot people do this already without even knowing it – when they like your Facebook page, retweet one of your tweets, or recommend your services to their friends, for example.
Blogging and Getting Referrals
Having and maintaining a blog is one of the best ways to get people talking about your business. The more you write about topics that are relevant to your readers, the more likely they are to refer you to their friends and colleagues – just as we're doing right now!
Referrals Via Social Media
In the last few years, social media has come to replace some of the ways we communicate with our customers – or at least the way we keep in touch with them.
Using social media platforms like LinkedIn is another fantastic way to not only stay in touch with your clients, but to also promote your skills as a business owner at the same time.
LinkedIn is your online CV that represents you, the business owner. It shows prospective clients how well-skilled you are to carry out work for them.
But it also allows your current clients to see what you've been up to, and for this reason, it's a powerful marketing tool.
We've written about some of the do's and don'ts of LinkedIn previously, but one of the most important things to remember about LinkedIn is that, even though it is a social media platform that can be changed or updated whenever you like, you should still keep your profile as professional and consistent as possible.
Referral Marketing and Networking Events
So far we've talked a lot about the virtual world – but what about the real world? Going to networking events is one of the best ways you can connect with other business owners, who are looking to connect with you too.
Join meet-up and get amongst it with other business owners in your local area – you'd be surprised how many people didn't know that it was your business they were looking for!
***
Referral marketing is an exceptionally powerful marketing tool, providing it's done right. Make it one of your daily goals to always devote some time to maintaining your referral marketing activities. So whether it's your blog or social media feed, spend a few minutes each day getting others to talk about your business. Find out more about our comprehensive Small Business Management Course.
-- Did you like what you read? Want to receive these posts via email when they are published? Subscribe below.