Breaking News & Updates
There is a co-working / shared / serviced office business with casual day care rates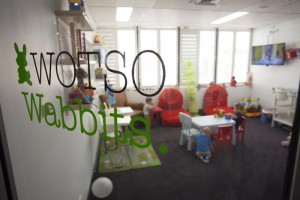 If you're a mum looking to return to work and you live in Sydney, childcare costs are probably one of the biggest hurdles you'll have to overcome – that is, in addition to flexible workplaces, transport, and affordability, of course! But it's not just mums returning to work for an employer that have trouble accessing childcare, it's also mums who work from home.
Being self-employed comes with abundant distractions as it is – being in close proximity to the fridge, the TV, an overflowing laundry basket – but with small children around competing for your attention all the time, it becomes even harder to get any work done.
Then there's the issue of trying to make a business call without the other person hearing your kids in the background, or of finding childminding for a couple of hours while you have a business meeting. As difficult as it is for mothers to return to a structured work environment, it's also equally difficult to work in an unstructured one. As it happens, this is an experience shared by many other women, particularly now that there are more women starting their own businesses after having children.
WOTSO, the co-workspace with a wabbit
With the startup culture in Australia thriving, co-workspaces have grown in popularity. Once the favourite haunt of hip, young, creatives in urban city centres, like Sydney's Ultimo, Chippendale or Darlinghurst, co-workspaces soon began to expand into the suburbs – there are several located on Sydney's Northern Beaches, while a few more have popped up in the western suburbs.
Among those workspaces, are WOTSO Workspaces, a group of flexible workspaces located throughout Sydney, Canberra and the Gold Coast.But it's in their Neutral Bay workspace, located on Sydney's North Shore, that WOTSO came up with a rather simple, yet ingenious, service to offer their tenants: a creche service they called WOTSO Wabbits.
The WOTSO Wabbits service came about after a couple of WOTSO employees became mums themselves and wanted to return to work, but couldn't find any reliable childcare for the hours they needed it. And so the WOTSO Wabbits service was born, which began at the Neutral Bay site as a trial but was so popular that it's now being rolled out to the group's North Strathfield, Pyrmont and Gold Coast locations.
Childminding by the hour for working parents
For self-employed parents (or parents who telework), the biggest drawcard is that you only need to book and pay for the WOTSO Wabbits service as you need it. If you only need it for three hours, you don't have to pay for a full day like you do at a childcare centre; you're also not locked into childminding on any specific day or days each week. This detail shouldn't be overlooked as being insignificant.
Most self-employed mums only work part time hours so they still have the time to be with their kids, and childcare can't be claimed as a business expense. There seems little sense in paying for day-long childcare every week, when you only really need it for a few hours – or may only need it occasionally.
Besides, childcare is in short supply as it is. If there were more services available for parents who only need childminding for their children for a few hours, each week that would free up childcare for the parents who have full time jobs to go back to, but who are having difficulties accessing childcare when and where they need it.
Now's the time to start a home-based business


I know I've said this before, but I'm yet to find any evidence to the contrary: there has never been a better time to start your own business. With the number of government incentives currently available, the greater opportunities to work from home, and a general culture that's more nurturing and conducive to entrepreneurship, there really aren't any good reasons why, if you've got the talent, drive, and desire to start your own business, you shouldn't be doing it now – unless, of course, you'd like to continue duking it out for a job in the ever-decreasing pool of permanent employment.
If you'd like to start your own home-based business, EzyLearn has recently started the StartUp Academy, which has a number of business opportunities, across an array of industries and professions, who can give you the training and coaching you need to make your business a success. Alternatively, to read more about starting a business, subscribe to our blog, or visit our website for a list of training courses that can help you with the various aspects of operating a small business.
-- Did you like what you read? Want to receive these posts via email when they are published? Subscribe below.