Breaking News & Updates
6 Weeks from Zero to Hero in Google Organic Search
I HAD A GOOD, long think before writing this blog post. However, I've decided it's OK to write this blog — because the blog should be about helping business people reach Page One in Google's organic search results (that's the FREE ones!)
You should see the number of emails I get each week from overseas companies in Asia, the Middle East, Eastern Europe and even the US and UK.
All of these emails are telling me the same thing: How they will get my company onto Page 1 in Google!
You might be thinking, "Yeah, so what? I already know how to do that!" or let me see your list of companies. Point is, there are lots of these self-professed experts around — and I'm probably no exception!
SEO Aspects
I last wrote about real estate agent, Derek Farmer, before Christmas when we had already created his new website. The aim of this was to help property owners find him when they're ready to explore selling their property.
We'd already begun the process of creating relevant content but ramped it up in the last 6 weeks and the results were amazing as you can see from the chart!
The work we did to help Derek get onto Page 1 of Google WITHOUT spending a cent on advertising,  involved all the tools we use at EzyLearn just to run our business. The thing with this is that we practise what we preach.
That's the beauty of running an online business: You get pretty good at all the technical and content stuff, particularly when you have to compete with the marketing muscle of billion dollar organisations like MYOB and Sydney University!
Of course, Derek was a good real estate to begin with. He had a great existing reputation in Sydney's Lower North Shore and over 170 property sales under his belt. Quality speaks volumes.
Give something away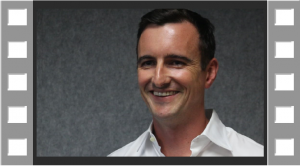 Derek had also spent a lot of time, considerable money and brainpower coming up with an educational series of videos. These helped his vendors (people selling their homes) and prospective customers better understand the various stages of the sales process.
This reflects the need for businesses to generate great quality content that people will find valuable — it's something everyone needs do in the "Google information era" we all now live in.
See what Derek has done and learn more about Automated Response Marketing
virion: A brand I am proud to work with
Virion is the arm of the business that helped Derek achieve such tremendous online success.
If you want to see more of what we do with online and content marketing, along with case studies and success stories, subscribe to our Virion blog.
Check out the Blog and Subscribe
Whereas the EzyLearn blog is chiefly about what we teach, the virion blog covers more of what we do. I'd love to share the work we do with you. Who knows if you see something you like, you can even join us and get involved!
[button link="http://virion.com.au/subscribe/" color="green" newwindow="yes"] Subscribe Now[/button]
-- Did you like what you read? Want to receive these posts via email when they are published? Subscribe below.