Breaking News & Updates
If money is an issue there are alternatives when it comes to accounting software programs
WE'RE OFTEN ASKED whether Xero, MYOB and QuickBooks software is provided free with our training courses.
Unfortunately, we're not given free access to accounting software, so we can't pass free software access onto our students either. However, we do let you know where you can access trial or student versions while you complete our courses.
It made me wonder: Who's driving the demand for these programs? It turns out, it's usually someone's bookkeeper or accountant recommending them. And this is usually because they've done a training course and learnt how to use one or more of the major accounting packages.
Does your bookkeeper or accountant disclose whether they're earning a commission?
Some bookkeepers take a 15 percent cut of the monthly subscription fee because they're a certified MYOB / Xero / QuickBooks consultant — and that's why they recommend a particular package. I personally think that bookkeepers or BAS agents who do this should disclose that they are earning an ongoing commission — just as real estate agents need to make these declarations in their agency agreements.
Businesses don't know any alternatives  
It also happens that a lot of business owners don't know about alternative accounting packages. Therefore they simply choose the brand name they've heard about the most. I discovered this with real estate agents when it comes to who they choose for their social media marketing services — most of them ask what software or which person Joe Blow uses and then assume it's good enough for them.
Selecting an accounting package to use is often one of the first things a new business owner does. At this stage, however, they may not even be aware of what they require from an accounting package; never mind what sorts of alternatives they should be looking at. When first starting out, they're just anxious to be able to invoice and get paid by their first client.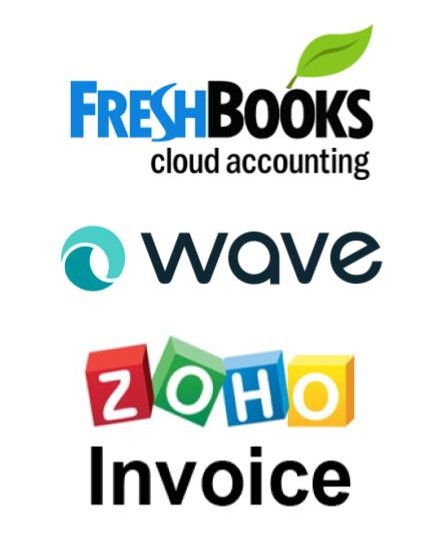 Three low cost alternatives to the "three brand names"
Zoho, Freshbooks and Wave are three other accounting packages that are either free or very inexpensive.
These three also include many of the same features you'll find in the three big name accounting packages — MYOB, Xero and QuickBooks.
Zoho: Free invoicing software allows one user, invoice up to five customers; paid subscriptions from $7 U.S. per month; add extra features (expenses, subscription management, inventory management) as required. Pricing for Zoho Books, the complete accounting package, start at $9 U.S. per month for 2 users, 50 contacts, 5 automated workflows.
Freshbooks: Complete accounting software includes unlimited invoices, accept online and credit card payments, multiple devices, reports, payment reminders, notifications when clients have received, viewed, paid invoices; pricing starts at $15 U.S. per month for 5 active contacts (customers).
Wave: Forever free invoicing and accounting software includes unlimited estimates and invoices, generate reports, scan receipts, bank feeds (accounting package), and more; accept credit card and online payments for a fee (1.75 percent for ever 30 cents AUD); payroll $36 AUD per month.
Consider your business needs first
We recommend either Wave or Zoho for small but growing businesses, looking for a cheap or free accounting solution. Wave, in particular, provides a fairly robust accounting package that's entirely free, and remains so if you don't intend to take credit card or online payments (lots of businesses do, but many more don't). In fact, they even have their own smartphone apps to capture receipts and create invoices while you're at a clients!
If you anticipate you might want to add other productivity apps, like a CRM, inventory management, IT helpdesk, recruitment tools, or collaborate in a team project, Zoho is a good place to start, as these features can be turned on and off as required.
Of course, these accounting packages are rarely used or recommended by accountants or bookkeepers, who prefer to work with Xero, MYOB or QuickBooks because they provide the functionality needed to complete and lodge activity statements. If you'll be working with a bookkeeper or accountant, it's best to stick with one of the brand name three.
***
If you need training in MYOB, Xero and QuickBooks, our online training courses will show you how to set up and use various aspects of the software. More importantly, they will take you through detailed case studies where you can enter all the transactions performed by various different business types eg. professional services, trades and even the sale of inventory products. Visit our website for more information or to enrol.
Ref: #715
-- Did you like what you read? Want to receive these posts via email when they are published? Subscribe below.