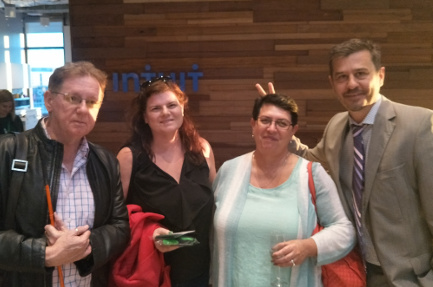 Breaking News & Updates
QuickBooks Online Promoting Accounting App Partners
I HAD THE PLEASURE of being invited to meet with some fabulous registered BAS agents at a recent function for VIP's before this week's QuickBooks Connect Conference in Sydney's Intuit head office.
The VIP event included presentations from lots of App developers who provide Bookkeeping and Accounting Apps which integrate with QuickBooks Online (and also Xero and MYOB) as well as practice and workflow management systems like Practice Ignition and HubDoc which help bookkeeper's assist their clients.
These BAS agents have been bookkeepers for decades, yet rather than sit on their past practices, they are constantly learning and improving their knowledge of software, systems and apps and talking to them about this new technology seemed very natural. This actually surprised me because I thought I was the only one who was right into this stuff — well, not the only one, but I can get very passionate about it! But I digress.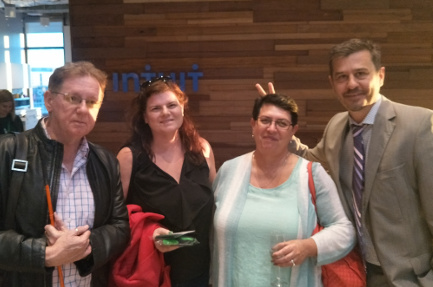 These BAS agents are a growing number of Certified bookkeepers with plenty of knowledge AND experience, and who are willing to share that knowledge by training anybody who is keen to learn about bookkeeping on a one-to-one or face-to-face basis. They are:
Want One-to-One Training?
Tracey and Sharon are part of National Bookkeeping and, as such, they have access to training on all software programs as well as the tools to help them teach small business managers and owners how to use the software in their own businesses.
Combined with their experience and training, Tracey and Sharon are part of a growing trend of bookkeepers who are willing to share their knowledge to help business owners do as much of their own bookkeeping as possible. Here are some quotes from clients who used their services in May 2018:
Thank you Natbooks! The training was excellent. Tracey was a great teacher and we had a lot of fun. I learned a lot as different scenarios were popping up all the time and Tracey was able to take me through solving them in the time we had together. I'm so glad I chose one-to-one training because I would not have been able to do the setup. Group training would not have taught me how to do this. With one-to-one I found it was relevant to my business only and could straight away apply what I was learning in real time to my business instead of a trial business. Many thanks!"
— Donna Larder, Administrator, BOULDER WALLS & BOBCAT HIRE PTY LTD
Learn more about One to One Training on all Bookkeeping software programs
What's stopping YOU becoming a Bookkeeping Software Trainer?
Performing one-to-one training on all aspects of computer software was how I got started in the training business in the early 1990's. It's great fun if you love using and learning about technology and I recall hundreds of times when I went to someone's house or office to teach them how to use software and technology to do things that were important to them; from file transfer, working with images or mastering MS Office. It was very gratifying.
Since those early days I discovered that when you use great accounting software, and you use it properly, it saves you hundreds of hours, keeps you efficient, makes it easier to find information and ensures you remain compliant every quarter.
***
Thinking about getting started? If you want to find out more about how you can train other business people in how to use accounting software, speak with the digital marketing team at National Bookkeeping and Pre Qualify.
-- Did you like what you read? Want to receive these posts via email when they are published? Subscribe below.