Breaking News & Updates
Creating training materials for cloud-based accounting software is a continuous process of improvement. In fact it is much like the process that the software goes through in their Continuous Innovation & Continuous Delivery process.
Two of Australia's newest billionaires Mike Cannon-Brookes and Scott Farquhar have become wealthy because they created software that enables companies like MYOB manage a team of developers, designers and analysts in the pursuit of continuously adding enhancements, updating the software, fixing bugs and providing support for their MYOB Tax software via their company Atlassian, but I digress.
The reason for this post is because of obscure behaviour by MYOB regarding their essentials software and a recent upgrade they performed on the MYOB Essentials software.
Before I get too carried away I should explain that I've used lots of different software programs over the last 20 odd years and what I've found is that companies are regularly changing the UX or the User Experience. This involves,
how you navigate your way around the software,
how many clicks it takes to perform common tasks,
what colour scheme and graphics they use (just to name a few).
Usually a software vendor will make this new version available to selected users as a beta version and often they'll allow users to revert back to the old version for a while if they don't like the new look or user experience.
MYOB Announced Changes to MYOB Essentials in March 2020
The issue we found was that there was no clear way of seeing any upgrade for the software from within the program. We had an existing account of the software and we were making change to it and it was only after we received a query from a student that we realised that all NEW accounts created were using the new version but existing accounts weren't – or were they?
We dug down to discover that the updated version of the software was going to be rolled out to clients in Q2-Q3 (but is that calendar year or financial year?). You can read the announcement here.
The part that we found difficult to understand was that we couldn't find any internal links, buttons or options to upgrade.
The good news for users of MYOB Essentials software is that it is becoming more and more powerful very quickly but the flip side is that even if you use the software already and love it you'll need to go through the CICD process that we all seem to have to go through these days with cloud-based applications.
Explore our MYOB Essentials Training Courses
If you want to learn both versions of MYOB (AccountRight and Essentials) we have a combination offer that's good value.
One thing that should always be changing though, is your website and you could be responsible for it in the future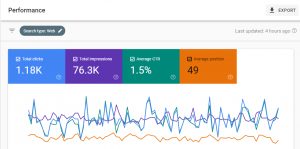 On a different topic I've been speaking with a growing number of EzyLearn students who have their own business and business website that runs on WordPress. The reason is that I'm creating a number of training videos to help students understand the powerful tools that website owners can use to get discovered online as well as provide great customer service online.
I recently wrote about the changing job descriptions of office support and office admin employees and how it is beginning to include some rudimentary digital marketing tasks and if you're interested please make contact with your course support team or accounts course tutor and let them know.
We've also created a FREE Digital Marketing training video about a FREE service from Google that helps you discover what traffic it is sending to your website and why! This is a great way to make changes to your digital marketing strategy to attract more relevant visitors.
What are some visual changes to MYOB Essentials
We've created a video to demonstrate some of the major changes between the new and old versions of MYOB Essentials at the new course catalogue website.
This video is just one of the FREE MYOB Training course video tutorials available for anyone to access.
Featured image from MYOB Blog article
-- Did you like what you read? Want to receive these posts via email when they are published? Subscribe below.