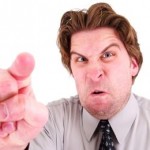 In our Small Business Management Course, you learn all about starting and managing a small business. One thing we don't teach, however, is customer service.
In fact, it's often said that the golden rule of customer service is that the customer is always right, even when they're wrong.
But what happens with your suppliers, when you're technically the customer — does this give you free reign to be as demanding as you like? Or does it pay to be nice? Continue reading Do You Really Need to Be Nice in Business?