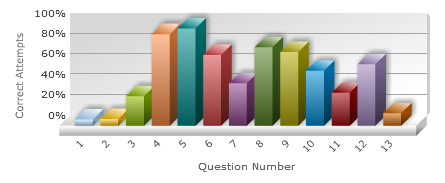 Breaking News & Updates
We recently made a quick MYOB skills test available on our website to coincide with the launch of our full online MYOB training and assessment tools and the result from over 3000 website visitors showed some very interesting information. The average score was 44.74, with the bulk of students receiving between 31-70%.
Most fascinating was that less than 10% of all attempts managed to get the first two questions right! These questions related to what options are found in the command centres.
Tests are a great way to highlight learning outcomes of a course while providing links to the exact training material you need to provide the correct answer and our online MYOB training course includes 9 knowledge reviews covering the Day-to-day operations of a business, bank reconciliation (which if completed successfully allows you to complete your BAS in less than 5 minutes) and Payroll Introduction.
-- Did you like what you read? Want to receive these posts via email when they are published? Subscribe below.